The Centre has an established tradition of offering fellowships to scholars external to the university. In recent years, it has been able to fund two fellowships annually (each of up to £2,000). Fellows usually visit the Centre for a month, during which time they are expected to organise an event, and participate in the Centre's general intellectual culture. The next call will be issued in July 2017.
Visiting Fellowship 2016-17 awarded to
We are very pleased to announce that the following people have been awarded 2016/17 Fellowships – many congratulations to you all.  We were able to make some financial savings and so have been able to award several smaller fellowships for short stays. There was some very stiff competition with more than 30 applicants – thank you to everyone who applied and we hope you will try again next year …
Main Fellowships were awarded to David Bissell from Australian National and Bradley Garrett from Southampton.
Smaller Fellowships were awarded to Martin Emanuel, Uppsala; Jill Ebrey, Manchester, and Nikki Pugh, freelance artist working alongside Chris Donaldson, Lancaster.  All recipients will be supported before and during their visit by members of the CeMoRe Directorate.
We look forward to working with you all …
How to Apply
The next call will open in July 2017.
To apply for the fellowship, please submit a CV with a 1 page covering letter detailing:
how your research connects to CeMoRe;
what you plan to do during your time in Lancaster;
how you might build long term connections to the Centre via the fellowship.
Deadline for applications is usually in July and successful applicants will be informed by the end of August.
If you have any questions please contact Aurora Trujillo.
Further information
Associated staff:
Associated departments and research centres:
Previous fellowships have been held by:
Details of the events they organised and pieces of writing about their research and visits are also available below.
Updates from our visiting Fellows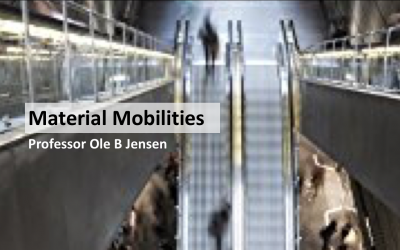 What does the turn towards design and architecture within the 'new mobilities turn' mean? Ole B. Jensen, Professor in the Department of Architecture, Design and Media Technology at Aalborg University, has visited us to give the talk 'Material Mobilities...
read more