Soundings: exhibition and performance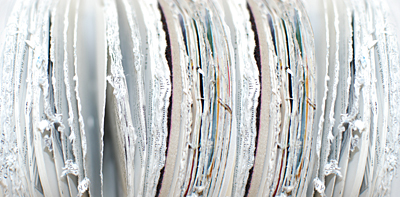 Photograph by Susan Ryland (c) 2011
Soundings: thought over time uses geological devices to examine two parallel, but related areas of research into figurative thought in art and music. Core samples will be taken from sodden stacks of Encyclopædia Britannica and the research papers of artist Susan Ryland and musician Helen Thomas. These core samples will be laid out in open casks, and marked at key intervals (Figures 1, 2 and 3 below). Over time, as the paper dries, increasing amounts of partially blurred and faded textual information will be revealed to the viewer, in a process akin to a self-opening book.
This collaborative work will create a dialogue between materials, sound and thought to explore how metaphor and metonymy generate new meaning. The geological sampling of encyclopædias alludes to the accumulation and sedimentation of language and knowledge over time and provides a means for reviewing and reflection upon the research process.
Around the gallery walls will be a sequential print-work by Susan Ryland that builds on her earlier work referencing core-sample ideas of sedimentation, accumulation, resonance, articulation, segmentation, notation and continuity.
A musical work S/core for oboe (Helen Thomas), live electronics and tape (Michael Beiert) will be created in response to the core-samples. The piece, to be premièred as part of the RaAM9 conference, will use directed, aleatoric and intuitive performance techniques alongside musical sampling in homage to avant-garde music of the 1960s. Susan Ryland and Helen Thomas will present a paper at the Researching and Applying Metaphor international conference (RaAM9) Metaphor in Mind and Society, University of Lancaster, 4 to 7 July 2012 on the initial insights gained from their collaboration and submit an article for publication on completion of the project. Each RaAM9 conference delegate will receive a catalogued and labelled S/core fragment, as a symbolic and literal dispersal of the performed piece. The project will be adapted and developed further in response to each tour venue.
For further information follow the Soundings blog