OUR PEOPLE

We are a highly interdisciplinary team. Our approach combines techniques from a range of disciplines, including Corpus Linguistics, Text Mining, Natural Language Processing, Machine Learning, and Geographic Information Systems. We come from:
This project evolves from a long standing interest in American Colonial Archaeology and History and a set of interdisciplinary collaborations by the members of our team.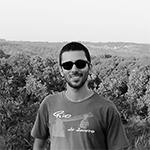 I am a Master's student at Instituto Superior Técnico (IST) and I'll carry out research for my PhD at the DECM Project. I hold a BsC in Computer Science from the same university. During the academic year of 2016/2017 I was an Erasmus student at KTH, Sweden, mostly taking courses from the MsC in Machine Learning programme that KTH offers. My research interests are in Machine Learning, Natural Language Processing, Deep Learning methods and to a lesser extent Machine Translation.