Introduction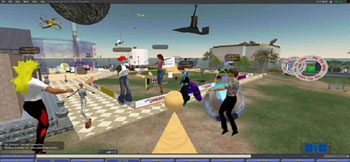 This work stems from an ESRC funded seminar series which ran from 1st October 2009 to 31st July 2010. (RES-451-26-0731)
Since then work has continued, particularly centring on production of a forthcoming book: Virtual literacies: interactive spaces for children and young people (eds: G. Merchant, J. Gillen, J. Marsh & J. Davies, Routledge).
The aim of this seminar series was to investigate children's digital literacy practices in virtual worlds, online massive multiplayer online games and alternate or mixed-reality learning environments. We explored ways of exploiting opportunities for literacy educators as follows:

We brought together senior and new scholars from a variety of fields in order to develop appropriate approaches to research. In 5 seminars and a 1-day conference in 9 months we were able to identify key themes and approaches.

We identified and explored exciting contemporary innovations in educational activities that are making use of virtual online spaces. Using our core group and other connections, we were able to bring together analyses of many cutting-edge activities. We were particularly pleased that we succeeded in finding excellent practice across the relevant ages and stages from the Early Years to Secondary.

We aimed to make a distinctive contribution through enacting a creative approach to dissemination. Intenet telephony (Skype) enabled us to involve colleagues in USA and Australia. We held the second half of our one day final dissemination conference in the virtual world Second Life, enabling substantial international participation at no cost to delegates. This creative approach saved one third of the original budget.
There have been many publications and presentations resulting from participation in the seminar series including a recent symposium at American Educational Research Association: Researching the Literacy Practices of Children and Young People in Virtual Worlds, New Orleans April 8-12.
Organisers
Julia Gillen
Lancaster University
Web Page

Guy Merchant
(Sheffield Hallam University)
Web Page

Julia Davies
(University of Sheffield)
Web Page

Jackie Marsh
(University of Sheffield)
Web Page
Last updated: 7 June 2011