Conference: Saturday 12th February 2011
'Imagining Islamism: Literature, Film & Politics in the Arab World' was a one-day conference at the Storey Creative Industries Centre in Lancaster on Saturday 12 February 2011. The event featured an outstanding line-up of experts on the contemporary Arab world and its literature and other creative media. It was a stimulating day of critical reflection on a topical yet much-misunderstood phenomenon.
The programme was as follows:

9:45-10:00 Welcome & Introduction: Dr Robert Appelbaum, Dr Lindsey Moore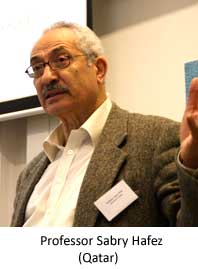 10:00-11:00 Plenary, chaired by Dr Abir Hamdar
Professor Sabry Hafez (University of Qatar):
'Islam in Arabic Literature: The Struggle for Symbolic Power'
11:20-12:30 Sub-Plenary: Islamism in Contemporary Arab Fiction & Film
-Professor Caroline Rooney (University of Kent): 'Islamism, Capitalism and Mimetic Desire in the Terrorism Novel'
-Dr Khaled Hroub (University of Cambridge): 'Islamism in the Arab World: Cultural and Literary Reflections'

1:30-3:00 Sub-Plenary: Creativity & Politics in the Contemporary Arab World
-Dr Zahera Harb (University of Nottingham): 'Al Manar and Hezbollah: Creativity, Ideology and Politics'
-Dr Shuruq Naguib (Lancaster University): 'Literary Islamism and the Qur'an: The Project of Amin al-Khuli and Bint al-Shati'
-Dr. Abir Hamdar (Lancaster University): 'The Poetics of Jihad in Selected Arabic-Islamic Fiction'
3:15-4:15 Plenary, chaired by Dr Arthur Bradley
Professor Rasheed El-Enany (University of Exeter):
'Representations of Islam in Arabic Fiction'
4:15-5:00 Plenary, chaired by Dr Lindsey Moore
Fadia Faqir (University of Durham) read from her new novel At the Midnight Kitchen

5:00-6:00 Roundtable: Speakers and Project Team, chaired by Dr Arthur Bradley
Download our poster and programme.