THE SPIRITUAL REVOLUTION: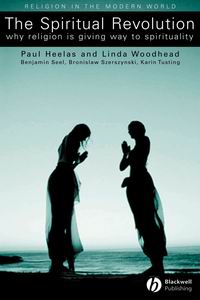 Why Religion is Giving Way to Spirituality
Paul Heelas and Linda Woodhead
with
Benjamin Seel, Bronislaw Szerszynski and Karin Tusting
All Lancaster University, UK
This book explores the significance for contemporary religion and spirituality of the subjective turn in modern culture. To understand this, we need both careful empirical research and constant reflection on our categories. Heelas and Woodhead supply both in generous measure. Agree or not, this book will help to carry the debate forward, as we struggle to find the terms we need to understand the large-scale changes in modern spiritual life. Charles Taylor, McGill University
This well-researched and cogently argued study offers a challenging diagnosis of the spiritual condition of present-day Britain. It will be hotly debated by sociologists, theologians, and all those interested in the future of religion and spirituality. Hugh McLeod, University of Birmingham
The Spiritual Revolution provides a much-needed survey and theoretical synthesis of research on religious involvement, particularly in Great Britain and the United States. Through the window of the community of Kendal, Heelas and Woodhead examine 'tectonic shifts' in the religious landscape along a decidedly subjectivist fault line. The result is a much more nuanced and productive account of religious change than the usual secularization versus sacralization approach. Especially helpful is the authors' typology of religious congregations, which is an extension of the interpretive framework for understanding contemporary religion developed in Religion in Modern Times (Blackwell, 2000). Penny Marler, Samford University
Are we living through a 'spiritual revolution' in which traditional forms of religion are giving way to new forms of spirituality? Are yoga, reiki and other forms of holistic practice set to become more popular than churchgoing?
This book addresses these questions by presenting findings from a major research project designed to chart the state of religion and spirituality today. Though it finds little to support more extreme claims of change, it discovers that spiritualities which engage with the depths of personal experience are faring far better than religions that demand conformity to higher truth. These developments are explained by drawing attention to the significance of a 'subjective turn' in the wider culture – whereby conformity to external obligations becomes less important than sensitivity to inner life and wellbeing.
240 pages / On sale October 2004; official publication date 2005
1-4051-1959-4 / Paperback / £15.99
This book is available to buy from all good bookshops. Or you can order directly via the Blackwell Publishing website: www.blackwellpublishing.com/1405119594