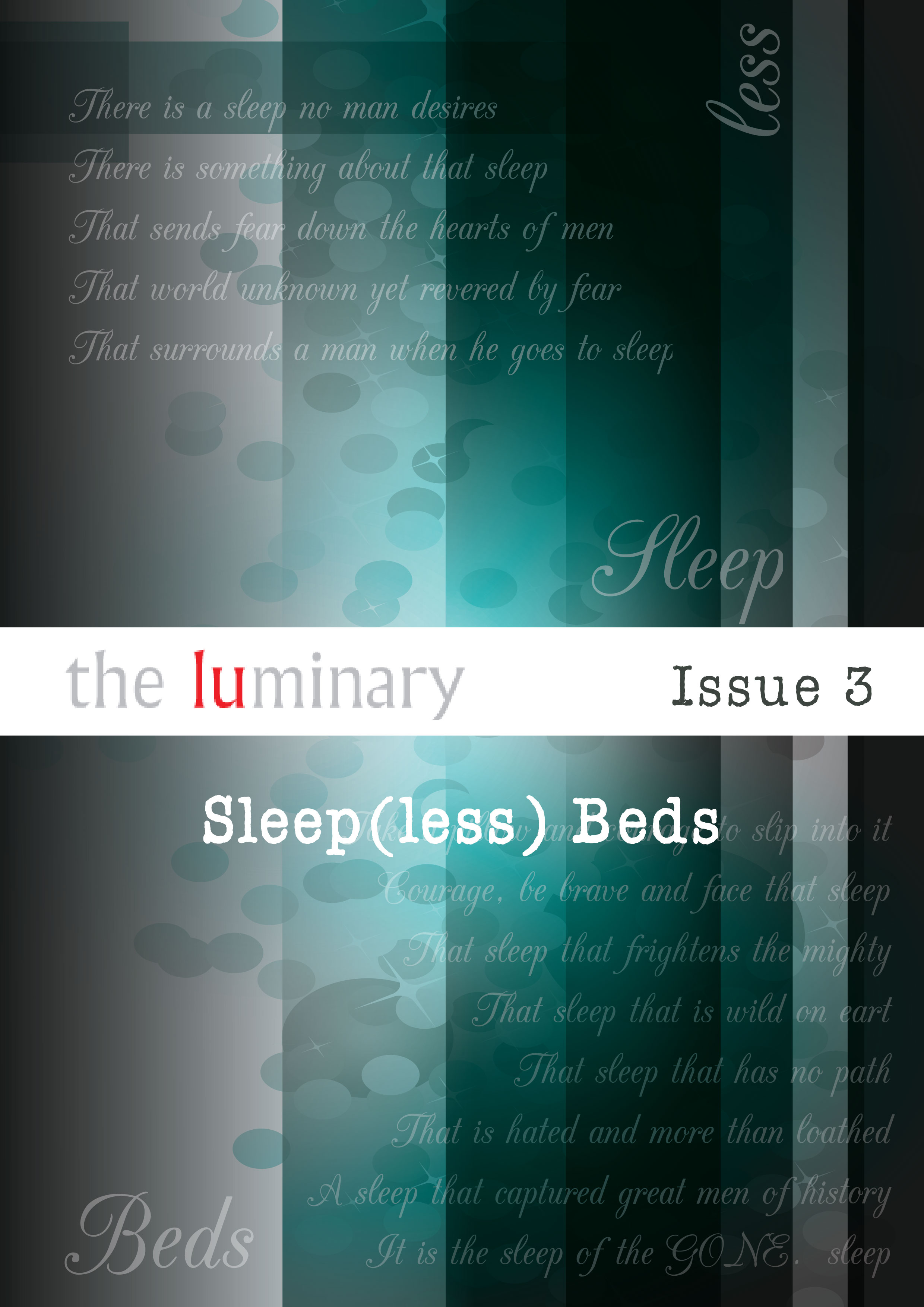 Sleep(less) Beds: Awakening, Journey, Movement, Stasis
This issue explores representations and meanings of the bed, bedroom space, and sleep in history, the arts, film and literature. Our contributors examine the functions, rules, morals, design, and meanings given to representations of 'the bed' and sleep across a range of disciplines.
Read online by following the links below or download this issue as a PDF.
Contents
The Story of the Bed (Foreword)
Dr. Michael Greaney, Lancaster University
Creative
Formation of a different medium of perception (Visual)
Fatemeh Takhtkeshian, Lancaster University
This series: 'Ego ideal' arises from my experience of trying to run away from parts of my life by abolishing all pictures or anything that reminded me of those days. In the process of destroying and tearing apart photographs that caused me shame or anger, surprisingly I discovered ways to see these experiences differently. Not hating them anymore, I decided to keep those pictures and use them in my painting and collage pieces. As a base for the new works, I used a second-hand book as sheets of paper, filled with the previous owner's dreams and ideas. On top of these I added my own dreams, nightmares and life experiences. Using second-hand paper is like sleeping in the other person's bed (room) and seeing their dreams start to enter in our nightlife; like borrowing part of someone's soul. In this project I drown in my real life, dreams and nightmares until it is impossible for me to make a clear boundary between them. My 'Ego Ideal' is lost somewhere between those layers. However, we are what we represent: a careful or careless selection of different layers. Our everyday lives are composed of movements back and forth behind the scenes and the stage where we present our 'selves'. Society does not provide us with clear in­structions of how to act. Indirectly, society confines and forms us through a process of representation, mediated by language and other symbolizing systems. These systems, historically, construct and at the same time confine our experience of forming our 'Ego Ideal'.
Sleeping Over (Creative Writing)
Chris Wiewiora, Iowa State University
My father, a copyeditor for a Christian magazine, shoves a letter about relationships through the cat door in my bedroom door. I spend a non-sexual overnight at Lauren's house, where I fall asleep together with her for the first time. While trying again in my relationship with Lauren, the remoteness in my relationship with my father widens. Read>>
Neither Sleeping nor Waking (Poetry)
Kevin McLellan, University of Rhode Island
Critical
'Never Sleep Again' - Horrific Beds in Wes Craven's Nightmares
Katharina Rein, Humboldt-University of Berlin
In this paper, I analyse the motif of the bed in regard of its representation in two horror films directed by Wes Craven: A Nightmare on Elm Street (1984) and New Nightmare (1994). The discussion of scenes in which beds play a central role in those two features reveals that beds are more and more detached from positive connotations as spaces of repose and safety, and charged with images of horror and violence instead. Moreover, beds are depicted as entry points into the realm of dreams, or in this case, nightmares. Thus they are connected to a mortal danger for their occupants, who are chased and killed in their nightmares by Fred Krueger, a supernatural phantom of a murdered child molester and killer, haunting the teenagers' dreams. In the Nightmare series, dream and reality are often difficult or impossible to tell apart – for the viewers as well as for the characters themselves. The films thus hint at a problem philosophy has been linking to dreaming for centuries – the difficulty to distinguish the two states of existence and to decide which of the two is 'real', or perhaps 'more real' than the other. In the Nightmare series, this border is often blurred as the teenagers' nightmares often appear to be no less 'real' than their waking existence, sometimes the former are even more exciting and adventurous than the latter (especially in the sequels). Finally, especially New Nightmare reflects on the production of horror films itself, as it, first, revolves around characters involved in film production and, second, depicts horror plots as (at least sometimes) originating from nightmares. Read>>
'Then draw the Curtaines againe': The Strange Case of Good Duke Humphrey (of William Shakespeare's Henry VI, Part Two)
Dr. Filip Krajnik, Durham University
The image of a sleeping character on stage had a special dramatic significance for mediaeval and early-modern playwrights and audiences, often playing a crucial rôle in the dramaturgical plane of the play in question. William Shakespeare seems to have been particularly fond of this trope, having used it numerous times throughout his dramatic career. The present paper discusses the very first instance of the topos in Shakespeare's canon – the murder of Duke Humphrey in his bed in 2 Henry VI. Special attention is paid to two distinct versions of the scene (Quarto and Folio), whose relationship has not been unanimously agreed upon by literary criticism. The author argues that, while the Quarto version seems to be the original work of early Shakespeare, the Folio variant is dramatically superior and more consistent with the use of the topos in Shakespeare's later – and more mature – works. Read>>
Between the Sheets: 'Lamination' and Sophie Calle's The Sleepers
Erkan Ali, Lancaster University
Over more than three decades, the French conceptual artist Sophie Calle has earned a global reputation for projects that play with, and comment on, the bizarreness of the everyday and the social via the use of photographic images and texts. Throughout her career, Calle has conducted a number of bed- and-sleep-themed projects. But this paper discusses her first project, The Sleepers (1979), in which she invited twenty-eight people to sleep in her bed in continuous eight-hour stints over a nine-day time frame. Calle always plays a central role in her projects, and not merely as the photographer and the writer. There is an autobiographical dimension to her oeuvre as a whole; and the texts and the photographs, in combination, tell the stories of her many escapades. Calle's use of photographs in combination with text has been analysed in various ways. But this paper will discuss this trait of Calle's work with reference to a concept that I call 'lamination' because, essentially, 'lamination' refers to how texts and photographs become fused or unified, producing a range of meanings that relate particularly to the effects of association and narrative-building, which are two important aspects of Calle's work. Read>>
Scenes from a bedroom: situating British independent music, 1979-1995
Elodie Amandine Roy, Newcastle University
This article deals with the real and symbolic centrality of the bedroom in the development of independent music in the UK (1979-1995). Drawing from Bachelard's Poetics of Space (1958), Bollnow's Human Spaces (1953) and also cultural and music theorists such as Susan Stewart and Wendy Fonarow, I argue that the bedroom can be read as (1) a space of creation, (2) a place of mediation and self-mediation and (3) a political space. The bedroom is notably, but not exclusively, examined in the songs of The Smiths and the later 'bedroom pop' movement (as embodied by Sarah Records).
This article aims to situate British independent music, showing that it is not primarily or initially a genre or a sound, but should rather be defined in its relationship to a lived, everyday environment. The article especially focuses on the material culture of the bedroom (with analyses of the radio and the mixtape), and its dissemination beyond the bedroom. The bedroom is seen as both fragment and miniature of the world; as a transitive, and potentially subversive space, which proves instrumental in the making and establishing of independent music. Read>>
The Public and Private Realms in the Seventeenth-Century: A Parameter of Wood and Fabric
Sarah Ann Robin, Lancaster University
This article is an exploration of the bed in the Britain during the seventeenth-century. Through a study of different types of bed and a close analysis of court records, this paper concludes that the bed served as a space of privacy and isolation, in busy, public domestic spheres. The bed was a haven of love, comfort and warmth, but the privacy of wood and fabric also created opportunities for abuse and criminality, which will be demonstrated in the second half of this paper. Read>>
Jouissance: Journeys Beyond the Bed with Hélène Cixous
Cecily Davey, University of St. Andrews
This article will propose that the symbol of the bed plays a central role in the writing of Hélène Cixous, from her earliest works onwards. Over the course of her continually evolving oeuvre, however, the associations which this object carries vary considerably. Each of the texts discussed in this article presents a different view of what the bed symbolises. Whereas her first essays link the bed with sleep, silence, passivity, and death; her later writing focuses on the bed as a scene of rebirth. The diverse representations of the bed in Cixous' work raise several questions. How does this transition from death to rebirth take place? Why does this transition happen? And what does it suggest about the larger conceptual shifts taking place within her work? It is the aim of this article to answer such questions by discussing a selection of texts that depict the bed in contrasting ways, including her celebrated essay 'Sorties', 'The Laugh of the Medusa', 'Coming to Writing', and 'The School of Dreams'. By reflecting on Cixous' often conflicting representations of this object, this article will consider how the ambivalent symbolism of the bed may be seen to offer valuable insights into the wider evolution of Cixous' oeuvre. Read>>
Interview
Professor Terry Eagleton, and The Event of Literature
with Nour Dakkak, Rachel Holland and Chloe Buckley, Lancaster University
A note on the contributors:
Dr. Michael Greaney has studied at the Universities of Oxford, Newcastle and Lancaster. His research interests lie in modern/contemporary fiction and theory. His first book, Conrad, Language, and Narrative (Cambridge University Press, 2002), received the Joseph Conrad Society of America's Adam Gillon Award for the most significant work in Conrad studies from 2001-4. Contemporary Fiction and the Uses of Theory (Palgrave, 2006) is a study of the reception and representation of theoretical ideas in literary fiction since the 1960s. He is currently writing a book on the representation of sleep and sleep-related states in the modern novel.
Fatemeh Takhtkeshian is a PhD student at the Lancaster Institute of Contemporary Arts (LICA), Lancaster University.
Email: f.takhtkeshian@lancs.co.uk
Chris Wiewiora is from Orlando, Florida where he graduated from the University of Central Florida (BA in English) and worked as an editor at the Florida Review. Currently, he lives in Ames, Iowa where he is a Masters of Fine Arts candidate at Iowa State University's Creative Writing and Environment program. He mostly writes nonfiction. He is a regular contributor to the Good Men Project and a contributing editor to BULL: Men's Fiction. Read more at www.chriswiewiora.com
Email: chriswiewiora@gmail.com
Kevin McLellan is the author of the chapbook Round Trip (Seven Kitchens, 2010), a collaborative series of poems with numerous women poets, and Shoes on a wire (Split Oak, forthcoming). He has recent or forthcoming poems in journals including: 2014 Poet's Market, American Letters & Commentary, Barrow Street, Colorado Review, Horse Less Review, Kenyon Review Online, Sixth Finch, Western Humanities Review, Witness and numerous others. Kevin lives in Cambridge MA, and sometimes teaches poetry workshops at the University of Rhode Island in Providence. Read more at: http://sites.google.com/site/kevinmclellanpoetry/
Email: kevinmc66@earthlink.net
Katharina Rein holds an M.A. in Cultural History and Theory from the Humboldt-University of Berlin, where she currently works on her PhD dissertation concerning media and magic in the late 19th century. She is employed as a research and teaching assistant at the Department of Media Studies of the Bauhaus-University of Weimar. Katharina Rein published several articles on horror film and other topics of cultural history in German and English as well as a monograph on the horror classic "A Nightmare on Elm Street" (1984) (in German).
Website: http://katharina-rein.blogspot.de/
Dr. Filip Krajník has recently gained his PhD in English Literature at Durham University. The topic of his dissertation is the dramatic rôles of sleep and dreams in Shakespeare's plays; among his research interests is the social, intellectual and cultural history of dreaming from antiquity to the early-modern period. He has also translated a number of English and American works of fiction into Czech and is a lecturer in literary translation at the English Department at Palacký University, Olomouc (Czech Republic).
Erkan Ali recently gained his PhD at Lancaster University. His interests are in visual culture, social theory, written and visual forms of representation, semiotics, but especially the role of photography in sociology. Drawing primarily on the work of Roland Barthes, Erkan's PhD thesis was concerned with developing a new concept for thinking sociologically about the relationships that can exist between texts and photographs in works of social science, art, photojournalism and documentary. He calls this concept 'lamination'. The main point of the concept is to argue that texts and photographs are mutually-dependent in the work they do in conveying sociological narratives, rather than arguing for the dominance of either text or image in the relationship.
Email: alie@exchange.lancs.ac.uk
Elodie Amandine Roy is currently in the third year of her PhD in Music at Newcastle University. Her research focuses on the material culture of music in the twentieth-century. She is especially interested in the relationships between media, matter and memory.
Email: e.a.roy@newcastle.ac.uk
Sarah Ann Robin is studying for her PhD, in history, at Lancaster University.
Email: robinsa3@exchange.lancs.ac.uk
Cecily Davey holds an MLitt in Women, Writing and Gender and is currently a PhD scholar and tutor at the School of English, University of St Andrews. Her thesis is entitled 'Bloodsong: Dream, Memory and the Body in the Fictions of Hélène Cixous' and her research interests include 20th - 21st century women's writing in English and French, memoir, feminist literary theory and bodily imagery. Read more at: http://st-andrews.academia.edu/CecilyDavey.
Acknowledgements
Cover art by Sara Gancho, Lancaster Institute for the Contemporary Arts (LICA), Lancaster University.
Sara can be contacted via s.gancho1@lancaster.ac.uk, and her work can be viewed here.
We would also like to thank Dr. Michael Greaney, Professor Lynne Pearce, Professor Graham Mort, Dr. Brian Baker and Professor John Schad for their support and input, as well as our peer reviewers.
Thanks also to Distinguished Professor of Literature, Terry Eagleton.