Biomedical and Life Sciences
Excellence in Teaching and Research
The Division of Biomedical and Life Sciences is responsible for co-ordinating biomedical teaching and research activities at Lancaster.
The Division has seen significant recent investment, with the appointment of many new members of academic staff and the complete refurbishment of our research facilities over the past five years.
This expansion of our research capacity and diversification of our interests means that we can continue to offer the very best in innovative teaching and research. We were ranked in the top 20 in the UK for Biological Sciences in the Complete University Guide 2017 and top 15 for Biosciences in the Guardian University Guide 2017.
Our teaching staff are all research-active, meaning that the material we teach is always up-to-date and relevant, reflecting current hot topics within contemporary biomedicine.
The research effort in BLS is directed toward understanding basic cellular and physiological mechanisms that underpin disease states.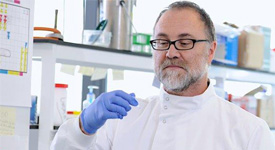 We are a community of world class researchers, teachers and students, working together to address today's biggest biomedical challenges.