Forecasting news and blogs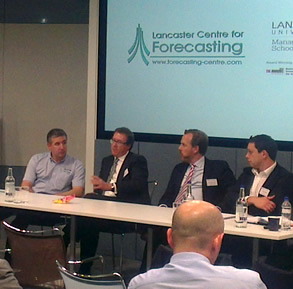 18/11/13
Business Insights into Forecasting with SAP-APO DP
The Lancaster Centre for Forecasting organised another successful workshop on "Forecasting with SAP® APO DP" held 30 October 2013 at the Work Foundation in London, and free to attend for all practitioners and academics in forecasting and demand planning.
28/08/13
27/08/13
Selecting the best model for improving forecasting performance
A major issue in forecasting is the selection of an appropriate model. Practitioners and forecasters regularly face this problem, having to choose a priori the best model from a set of alternatives. This becomes even more interesting, given that if the selection was to be done perfectly then the gains would be substantial (25-30% improvement in forecasting performance).