Loweswater Improvement Project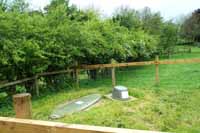 Danny Leck's new septic tank
In 2002, farmers in Loweswater decided to become proactive in the area of farm waste management and founded the Loweswater Improvement Group. Prior to the formation of the LCP, they:
Carried out a nutrient budgeting exercise together with ADAS and supported by Rural Futures/Farm Link in 2002;
Undertook lime spreading to reduce the acidity of the soil and bring ph levels back to normal (phosphate level reductions and a return to normal ph levels were confirmed by a second round of soil sampling funded by the National Trust in 2006);
Carried out a waste audit with ADAS, which led to the recommendation of separating clean from dirty water and covering yards and middens. These were implemented by some farmers;
Encouraged others in the community to think about waste reduction strategies. CEH Lancaster secured funding from the Rural Development Service (now part of Natural England) for a 12 month lake monitoring program to be carried out by the Centre for Ecology and Hydrology at Lancaster which highlighted that phosphate levels in the lake were linked not only to farm waste but sewage more generally. This study helped to secure funding from the LEADER+ programme for the replacement of four septic tanks identified as problematic by the Environment Agency, who had surveyed all sewage systems in the catchment at the request of the parish council.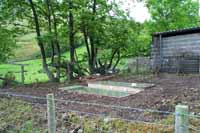 Reed Beds on Ken Bell's farm
The Loweswater Improvement Group constituted a dynamic force of change in Loweswater and led the way in community involvement in the realization of sustainable management practices in this unique and beautiful environment.