Gluten Free: Are you on the bandwagon yet?
What is gluten intolerance and gluten sensitivity? Gluten is two types of protein found in certain foods, (wheat, barley, rye and products such as stock cubes and soups, cakes and biscuits).
Read article
See more blogs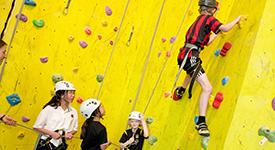 Lancaster University Sports Centre has an exciting activity programme for children aged from 4 to 16 years old. The carefully balanced programme offers something for everyone, giving them the chance to keep active and make lots of new friends.
Learn More