Government should act now to protect jobs and the economy through uncertainty this winter
---
Posted on by Heather Taylor
© Photo by Matteo Jorjoson on Unsplash
Today's labour market statistics show signs of continuing economic recovery, with unemployment heading back down towards pre-crisis levels, employment up and record numbers of job vacancies once again. However, it is important to note that the data covered in this period immediately precedes the emergence of the Omicron variant in the UK and the associated uncertainty that we are now facing.
The employment rate rose to 75.4% between August and October 2021. There were 257,000 more individuals in work in November than October, an increase of 424,000 since the start of the pandemic (February 2020), according to HMRC PAYE data. The unemployment rate has also continued to decrease. Coupled with a new record 1,219,000 vacancies, it is clear that we are experiencing an incredibly tight labour market, the impacts of which are being felt acutely across various sectors of the economy. With the OBR initially forecasting unemployment rates to peak at 10% as a result of the pandemic (assuming no government intervention), this data provides further evidence of the success of the furlough scheme and the continued economic recovery from the worst stages of the pandemic.
Figure 1: Actual unemployment rate between Nov-Jan 2019 and Aug-Oct 2021, compared with initial OBR forecast in April 2020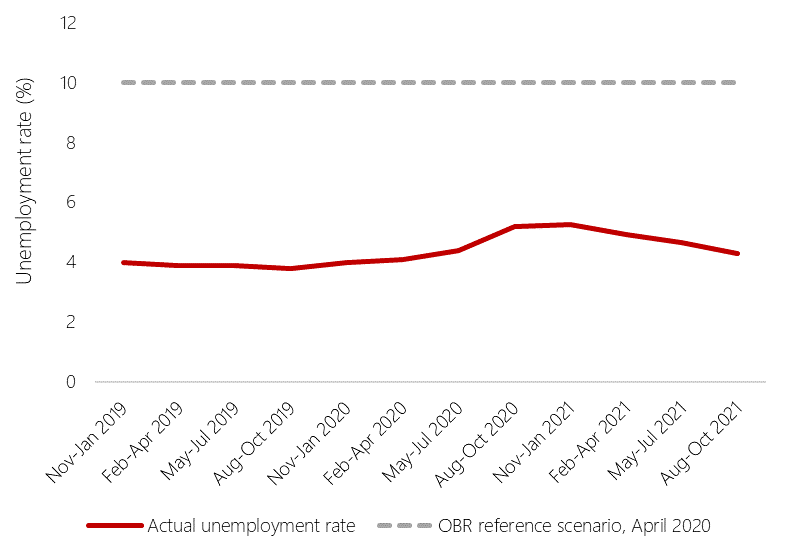 Source: Work Foundation calculations using ONS Dataset: A01 Labour Force Survey Summary (seasonally adjusted). 14 December 2021.
But another more concerning trend is also continuing – since the onset of the pandemic, the number of individuals who are neither working or looking for work (termed economically inactive), has increased to 21.2%. This includes students, retired people, individuals who are too unwell to work and discouraged workers – those who have who have stopped looking for work because they have struggled to find a suitable employment option. The main drivers behind the increase in the inactivity rate appear to be a sharp growth in ill health, with temporary sickness increasing by 17% on the quarter and long-term sickness increasing by 5% on the quarter.
Employers across the economy are facing renewed uncertainty due to the emergence of the Omicron variant, with the reintroduction of working from home guidance and weakened demand in hospitality in the run up to the usually busy Christmas period. The current situation is already fragile, as much of the job growth seen in this month's data comes from part-time and temporary work. These types of roles are often much more insecure than full-time, permanent contracts, as well as being more prevalent in the sectors more vulnerable to additional restrictions, such as hospitality non-essential retail and other service-based sectors.
Yesterday it was reported that passenger numbers on London Underground and rail stations around the country have dropped by 20% in the morning peak time. While hospitality venues have not yet been forced to reimpose measures such as social distancing or mandatory mask-wearing, UK Hospitality has forecast that takings will be down by as much as 40% for December, which is usually one of the most lucrative month for pubs, restaurants and hotels.
With the Prime Minister refusing to rule out further restrictions should they be required, and the First Minister of Scotland planning to announce tighter measures later on today, it is a worrying time for employers and workers alike, given that there is no furlough scheme or government grants to act as a safety net this time around.
Given this new context, Government should make it clear now that it won't hesitate to introduce further support for employers and workers in affected sectors to safeguard our economic recovery. As we highlighted last year, it is imperative that government moves beyond a "wait and see" approach – with iterative sets of announcements that seek to respond to the situation on the ground as it changes – to something more comprehensive for the longer term which is aimed at mitigating the worst impacts on the labour market. This should include making the commitment now to a targeted reintroduction of the furlough scheme if we see new restrictions that prevent people being able to go to work or dramatically reduce demand.
---
Disclaimer
The opinions expressed by our bloggers and those providing comments are personal, and may not necessarily reflect the opinions of Lancaster University. Responsibility for the accuracy of any of the information contained within blog posts belongs to the blogger.
---
Back to blog listing