High employment and economic inactivity underscore the need for a different approach
---
Posted on by Heather TaylorMelanie Wilkes
Following concerning GDP figures yesterday indicating the potential signs of a recession to come, today's labour market statistics show a very mixed picture.
While employment is up on the quarter and up on the year, it still remains below pre-pandemic rates. While overall unemployment is down on the quarter and on the year, short-term unemployment has increased for the first time since 2020, and economic inactivity levels still remain stubbornly high.
Vacancies are high, but aren't reflecting candidates needs and preferences
Vacancies increased on the quarter, hitting a new record high of 1.3 million across the economy. While it might appear to be a great time to be looking for a job, in reality it is much more complex than that. The record number of vacancies is largely being driven by sectors where low pay and poor conditions are commonplace. There are now 174,000 vacancies in hospitality, 100,000 in retail and 215,000 in health and social care.
As highlighted in our UK Insecure Work Index, these are sectors where workers are more likely to experience higher levels of insecurity. These sectors often see a combination of a high prevalence of involuntary part-time and temporary work, as well as low and variable pay. This issue is particularly acute in hospitality, where one in three workers are affected, compared to one in five nationally. Previous Work Foundation research has highlighted the distinct challenges that care workers experience, including limited career progression opportunities. Evidence also shows that median hourly pay for workers in retail is lower than the UK average, and variable hours, which cause fluctuations in earnings, are widespread. Therefore, it is perhaps unsurprising that according to data from Indeed's Hiring Lab, jobseekers are now more interested in higher-paid occupations than pre-pandemic, with interest shifting away from lower-paid categories.
There is also increasing employer demand in professional, scientific and technical activities, where there are 133,000 vacancies, an increase of 64% compared with the same quarter in 2019. While pay, job security and terms and conditions are likely to be better in this sector, roles here generally require very specific skillsets and/or prior experience. Therefore, it is unlikely that many of the 1.28 million who are out of work or the millions who are economically inactive would be able to find employment in this sector without undertaking further training or education first, which could be time-consuming and come at a significant cost.
Figure 1: Vacancies by industry (seasonally adjusted), March to May 2016 – March to May 2022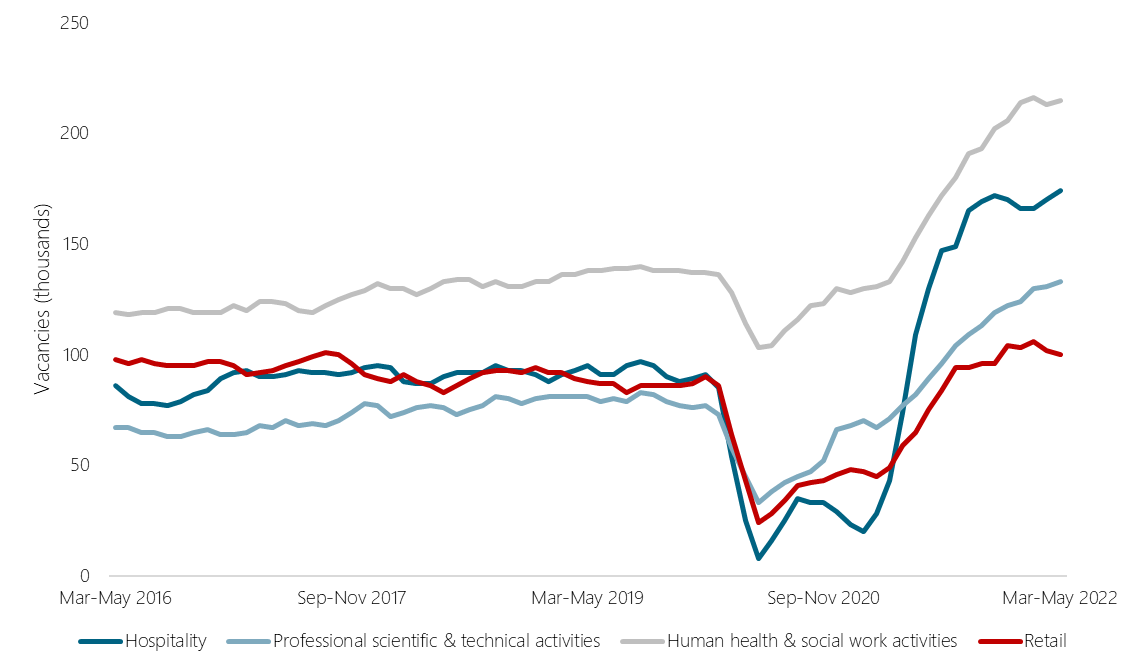 Source: Work Foundation calculations based on ONS (14th June) Dataset A01 June - Vacancies by industry (seasonally adjusted)
Roles in professional scientific and technical activities are more likely to have access to flexible work than those in retail, hospitality and health and social care. For older workers who have left the labour market, access to flexible work was a key priority. But if flexibility remains limited to certain worker groups and sectors of the economy, employers will struggle to attract and retain people who face barriers to entering and remaining in work.
Wages aren't keeping pace with growing living costs
Growth in average total pay (including bonuses) was 6.8%, and growth in regular pay (excluding bonuses) was 4.2% among employees in February to April 2022. However, in real terms (adjusted for inflation) in February to April 2022, growth in total pay was 0.4% while regular pay fell by 2.2% on the year.
Figure 2: Average weekly earnings annual growth rates in Great Britain, seasonally adjusted, February to April 2001 to February to April 2022
Source: Office for National Statistics – Monthly Wages and Salaries Survey
It is no surprise that a recent ONS survey found that around three in four adults (77%) are concerned about the rising costs of living, with women, disabled people and parents of young children more likely to be concerned. While this survey was conducted prior to the Chancellor's announcement of a £15 billion package of support for households, those stuck in low pay and insecure work will likely still be worried about the impact of spiralling prices.
It is positive to see that, according to analysis from the IFS, the poorest households will now be approximately compensated for the rising cost of living this year. However, the flat rate nature of payments to benefit recipients does mean that the package is less generous to poor families with children than to those without. Furthermore, given that the cost of childcare is now more than £2,000 a year higher than it was in 2010, more needs to be done to support working families through the cost of living crisis.
Last month saw negative growth across all main sectors of the economy for the first time since January 2021. It's looking increasingly likely that further support will be needed later this year when the energy price cap is increased again. Ahead of the next budget, Government should look beyond applying one-off economic 'plasters' and instead should prioritise creating a strategy to deliver more secure, better paid work.
employment
employment-bill
employment-rate
Hospitality
insecurity
job-insecurity
labour-market-statistics
retail
secure-employment
unemployment
---
Disclaimer
The opinions expressed by our bloggers and those providing comments are personal, and may not necessarily reflect the opinions of Lancaster University. Responsibility for the accuracy of any of the information contained within blog posts belongs to the blogger.
---
Back to blog listing