Back to news
Doubling the stakes: one household, two MBAs
17 August 2010
"When I told my friends I was going for an MBA, they all said, you're brave! I guess I didn't actually know what I was doing, back then."
It was certainly a bold move, for when Soojin Pak and her husband Nick Miles set out from Shanghai to take up their places on the Lancaster Full-time MBA, they were bringing with them their ten-month-old son Lucas.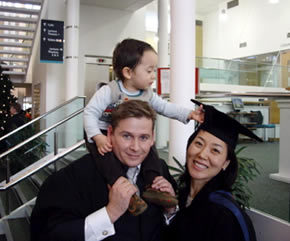 "Although it may not look like the perfect timing, for us it was," says Soojin. Before the arrival of Lucas, she had been working as a regional compliance manager for Universal Music Group in Shanghai, and previously in internal audit for Philip Morris International in Hong Kong. Nick was already partway through an Open University MBA, but was finding distance learning hard to combine with his demanding job as a deputy general manager of NYK Logistics China.
"We felt it was now or never," says Nick. "We had a shared ambition to do an MBA, but in Asia MBAs are quite expensive, even if you're doing it part-time. And as I was able to get a year off from work, it was actually a better option for us to come to the UK."
Although Soojin has dual nationality, having emigrated to the USA from Korea at the age of fifteen, the couple dismissed the two-year US MBA programmes on financial and time costs and also because of their orientation, as Nick explains:
"The US programmes tend to be more pre-MBA, but we both had over ten years' experience, so we were looking for an MBA more geared towards experienced managers – something very applied and practical, with lots of groupwork."
In searching for possible UK schools, Nick was initially surprised but also attracted by Lancaster's high rating for research and the ranking of LUMS. The Lancaster MBA also stood out in terms of its design.
"We found the practical side of the programme very appealing – working with business on consultancy courses. That was something other schools weren't doing so much of. There's a big difference between a more academic and an applied MBA. The Lancaster MBA mixes those two elements together: academic and practice. We felt that was very important."
Life on campus
The campus location, with family accommodation and the pre-school centre both within easy walking distance, was also a key deciding factor, says Nick.
"It meant we could pop back home at lunchtimes, and look after Lucas when he was ill. It would have been much harder if we'd had to drive on to campus every day."
Although the pre-school centre was Lucas's first experience of a kindergarten environment, he settled in quickly, making friends and establishing strong bonds with Centre staff.
While the couple took different electives, studying the same core modules for the first two terms really helped, says Nick. "We were able to talk a lot about things, and it was important for us to do this together as a couple."
"I think Nick and I are a good team," adds Soojin. "Nick's very broad and detail-oriented, whereas I'm more of a directing and planning person. It worked very well. He would do lots of background work, then we'd sit down together and narrow down the scope, to work out how we could tackle things in a more realistic and efficient way."
The hard work definitely cannot be underestimated, says Soojin, particularly when you also have a child to take care of:
"I was under a lot of pressure. There were many times when I had to get up in the middle of the night and do my own work – perhaps staying up from one till four. At the same time it was really rewarding. I think one of the most valuable skills I learnt from this MBA is time management. How do I allocate my time, to ensure everything can be fitted in and that I'm still able to deliver the project on time?"
Settling in
Despite the pressures, the family still found time to explore the local area, and joined a local church.
"We loved Lancaster," says Nick. "The town is small and compact – and the people are very friendly. The surrounding countryside is very beautiful, and having a car meant that we had some mobility. We were able to explore the region a little, with four or five day trips up to the Lakes – to places like Keswick and Windermere.
"The MBA class was very social, though with our family commitments we were slightly outside of much of it. There was a strong camaraderie, but for us it was inevitably more of a daytime relationship."
With only 77 students in the class, you could not help but form strong bonds, he adds. "We made some great friends and we're still pretty friendly with about twelve or 15 people in London."
Post-MBA
After completing the programme Nick was recruited as Director of Art Transport by the auction house Christies UK. It's a responsible role in which he draws not only on his previous logistics experience but also on many aspects of the MBA, particularly on marketing, organisational behaviour, and operations.
Having attained her MBA, Soojin is now devoting some time to Lucas before launching herself back on the job market – probably in management consulting or business development. But the year on the Lancaster MBA has built in her a conviction that motherhood and a high-profile career need not be mutually exclusive:
"After the MBA, I truly feel confident that I can handle both. That I can now take on some big responsibilities. I look at all the other female leaders, and I know that while it may not be perfect, it's manageable – we can do it. It does take courage, and it is sometimes very stressful. But I know I'm ready for a bit of a sacrifice to get back into the game."
"Doing an MBA together certainly worked for us' adds Nick. 'It's twelve months, it's very hard work and you have to make lots of sacrifices, but in the end it's definitely worth it. I think it goes beyond work – it gives you confidence and assurance in yourself as well, in other aspects of life."