Back to news
Forecasting with Collaborative Information: results of a workshop
26 April 2013
The Lancaster Centre for Forecasting successfully organised the workshop "Forecasting with Collaborative Information" on Tuesday, April 23, 2013 at the Work Foundation.
The seminar was introduced by Dr Sven F Crone of the Centre for Marketing Analytics and Forecasting, who presented survey results of collaborative arrangements across industries. Two industry speakers followed, with Judy Nolan (Rolls-Royce) describing the complexities of collaboration both internal to the business and external and Daniel Barrett (LEGO) recounting the challenges in collaborative forecasting when there are many new product (i.e. LEGO kit) launches each year. The seminar concluded with a panel discussion, allowing delegates to contribute to the debate and pose questions to the panel.
‌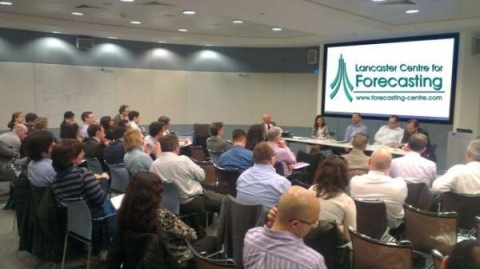 Dr Sven F Crone, in collaboration with Matt Weller (PhD candidate), have conducted a survey to identify the current practices through a number of dimensions, including the use of information, use of judgement and statistical methods, forecast granularity, use of software and accuracy metrics. They showed that current practice remains dominated by basic statistical methods and judgement, with judgement used heavily to integrate downstream data into the forecast. Forecasters report that advanced techniques capable of handling additional variables are seldom used; to some extent this is driven by the unstructured data exchange methods and limitations of the software available.
Judy Nolan, Forecasting Improvements Manager at Rolls-Royce, emphasized on the complexity angle of collaboration. The overhaul of the complex products, that Rolls Royce produces, requires a significant amount of information in order to forecast demand onto the supply chain accurately. Due to the long lifetime of the product and the significant lead time from the supply chain, the forecast placed on to the supply chain needs to be accurate over the next 5 to 10 years, so collaboration is required to obtain the information from downstream sources to the required level of accuracy.
On the other hand, Daniel Barrett, Senior Manager for Forecasting Methodology at LEGO, described the challenges in a rapidly growing business. In a business driven by new products with relative short life-cycles (1–3 years) using downstream information (shopper) and both internal and external collaboration is vital to the forecasting and demand planning process and has been a key component in their success. This presentation provided a context for the current challenges, methods and approaches being used in Europe and America.
The workshop concluded with a panel discussion, completed by the three speakers and Martin Woodward (ToolsGroup). Question posed by the participants included culture factors affecting the process, the innovations in either processes or tools and the value added from collaboration approaches. The panel discussion was chaired by Prof. Robert Fildes.
Participants
In total, 54 participants coming from a great variety of industries (such as Consumer Packaged Goods, Food and Beverage, Telecommunications, Electronics, Pharmaceutical, Government, Consulting etc.) found the workshop very interesting and relevant to their professional roles. Moreover, more than 85% stated that the topics were interesting and suitable and that the presenters were knowledgeable.
A full list of the companies where the delegates came from is following:
A.T. Kearney, Brazilian Naval Commission in Europe, British Gas, Brunel University, BT Openreach, Cardiff University, Colgate Palmolive, Coriolis, Dweomer Consultants, Epson, European Medicines Agency, Federal Mogul, GfK, Greencore Grocery, House of Commons, Janssen-CIlag Ltd, Kao, Kraft Foods, LEGO, Lindt & Sprungli, marketingQED, MSD, Mundipharma International Services, NAO, Office of Rail Regulation, Ohal, Openreach, Orange, Philips, Rolls-Royce, SABMiller, Smiths Medical International, ToolsGroup, Unilever, Unipart, United Biscuits, University of Nottingham, University of Strathclyde, Xyratex
Testimonials
"Well presented and professional workshop, highly relevant to my role of forecasting manager."
- Stephen Pratt, Forecasting Manager at Greencore Grocery
"A thought provoking afternoon with informative presentations. A relaxed atmosphere that encourages audience participation."
- Alistair Glover, SAP APO DP Global Lead at Federal Mogul
"This was a very useful, topical workshop. It was both relevant to practitioners and academics, particularly PhD students."
- Emel Aktas, Lecturer at Brunel University
"The workshop was thought provoking and extremely useful to gather a clearer idea about the development of the Forecasting discipline and where it is heading towards."
- Gianluca Summa, Demand Planner at Smiths Medical International
"Well worth attending"
- Derek Thomason, Practice Lead UEP Supply Chain at Unipart