Lancaster University has been ranked the top UK university for marketing in the 2014 Complete University Guide, published 29 April.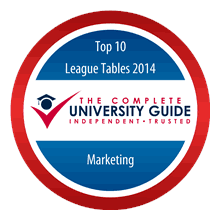 The Complete University Guide uses a combination of measures, including student satisfaction, entry standards, the quality of research and graduate prospects, to judge the top UK universities.
Lancaster's Department of Marketing is the longest established in the UK, and was founded in 1964. Since then it has retained its reputation as one of Europe's foremost academic centres for marketing research and teaching.
The range of undergraduate degrees offered by the department includes a BSc in Marketing, a BSc in Marketing Management which includes a one-year industry placement, and a BSc in Advertising and Marketing. Students can also undertake degrees which combine marketing with design and psychology, or programmes which offer 'study abroad' years in North America or Australasia.
The MSc in Advanced Marketing Management is the department's flagship postgraduate degree, designed specifically for graduates with significant prior academic or practical grounding in marketing.