Back to news
New Management in Action speaker series launched in London

10 January 2013
Lancaster University's new Management in Action series has been launched with two successful events at The Work Foundation in London.
The first event featured Lancaster MBA graduate Ashley Cowen, Operations Director of Jet2.com, as guest speaker. Ashley's talk focussed on the challenges of rebuilding a workforce every six months to deliver the Jet2.com Business Model
The Management in Action events are designed to allow participants to reflect on their management practice by seeing how other senior managers have responded to business challenges. Speakers are drawn from a range of for profit and not-for-profit organisations and topics selected that offer the greatest learning opportunity.‌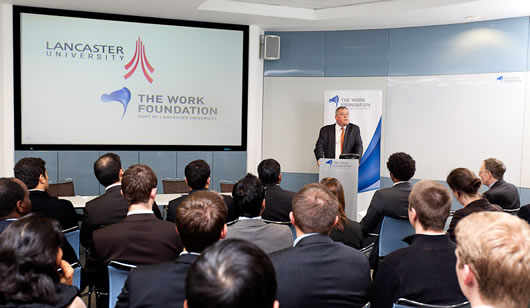 On January 9th, at the second event, MA in Business Analysis (1981) graduate Christopher Kinsella engaged an enthusiastic audience on the topic of The Professionalisation of Management. Christopher, who is a former Chief Executive of the Chartered Management Institute (CMI) gave a thought-provoking and controversial presentation based on his personal career experience. "I chose Lancaster and it was the best decision I ever made," he began. Christopher went on to explain that his studies at Lancaster University gave him hope that good management did exist and developed his instinct to apply academic rigour to his work.
He described management as a 'horizontal profession' among vertical specialisms. He explained his belief that leaders are born while management can be taught. He closed his presentation with a number of key recommendations, emphasising in particular the need to recognise the importance of management as a profession and that it is up to each individual to develop management skills.
Photos from the Chris Kinsella event can be viewed on our Flickr site.