Back to news
Smart thinking: Project Management students devise walking and cycling app

20 May 2013
As part of their course, a group of MSc Project Management students have produced an innovative android phone app featuring cycling and walking routes around Lancaster.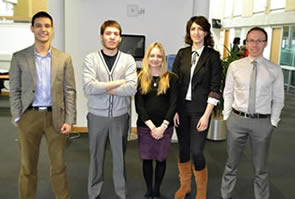 A group of Project Management MSc students have created an innovative android phone app which provides all in the local community a handy digital guide to cycling and walking routes around Lancaster.
The Lancaster Pathfinder app was devised for the Project Management in Action module, one of several experiential modules which form a key element of the programme. The project was managed by a team of five students: Lucy Harvey and Duncan Topping from the UK, and Aykanush Saakyan, Jenya Dzen and Timur Khilazhev, all from Russia.
The challenge was to come up with an idea in the same way an entrepreneur does, and then to find an external client who would support, encourage and promote the idea. The specific intent was that it would be relatively inexpensive to develop using crowd-sourcing technology, and something tangible the students could show potential employers as a project they have delivered.
The brief was flexible, enabling student teams to interpret it in different ways, depending on their own particular career ambitions. Among the other projects was a review app for the city's restaurants, a website for the project management community and a marketing video.
Spotting a gap in the market
The team behind the Pathfinder app hit upon their idea because of their own interests in walking and cycling, and a gap they identified in the market.
"The countryside around here is perfect for cycling, but as international students we initially had problems discovering the area for ourselves. We found that for generation Y there were not many resources available in easy-to-consume format," explains Timur. "We wanted to create a legacy for future generations of students who come to Lancaster, to give them an easy way to start exploring."
After generating interest for their concept from several potential clients, they began working with Green Lancaster, and together they whittled the potential routes down to the best ten, all within a 15-km radius of Lancaster.
On their road-testing phase they took notes and used helmet cams to record video footage of each cycling route. Short clips incorporated into the app give users a glimpse of what to expect, and an idea of the terrain involved.
Key landmarks were photographed for the walking routes: "We wanted the app to give users more information on the different buildings and their history, to help bring the walk alive," says Duncan.
The team's biggest challenge was getting a developer on board, particularly with their very limited budget. After much searching, they enlisted the help of Chris Owen, a third-year Computer Science and Multimedia student who also works freelance on Android development. His talents proved central to bringing the plans to fruition.
Project learning
For Duncan, an experienced IT professional who is taking the MSc Project Management as means of moving into project management, this project highlighted the difficulties of delivering a good end-product with a very limited budget.
"That is probably representative of many projects in the real world – people have a lot of ideas and great enthusiasm, but actually not much money to realise them," he says.
Balancing the demands of the client with those of the programme was also tricky, Timur adds: "The client was more interested in the deliverable, whereas our tutors were particularly interested in the application of project management techniques and methodologies. It was easy to get carried away doing the work and experiencing different things, rather than employing those techniques in a proper way.
"In professional practice, you will often have tensions between different stakeholders which you will have to learn how to resolve, so from that perspective this experience was very helpful."
Client feedback
The client reaction has been extremely positive. "It's a really nice, slick, easy-to-use interface and looks very professional," says Darren Axe, Co-ordinator of Green Lancaster. "I'm impressed that in a short period of time the students have been able to get the project together, bring a developer on board, and create a product that works very well and is available for people to use right away. It's going to be very useful for students and staff coming here to Lancaster University."
The team have also been in talks with iLancaster about potentially integrating their app into that suite of programmes. Meanwhile it is also available for free download on the Google Play app store.