Back to news
Honorary degree for distinguished economist
18 December 2012
Lancaster University awarded an honorary degree to one of the world's most distinguished financial economists – Professor Stewart C Myers – at December's graduation ceremonies.
Stewart C Myers is the Robert C Merton (1970) Professor of Financial Economics at the MIT Sloan School of Management.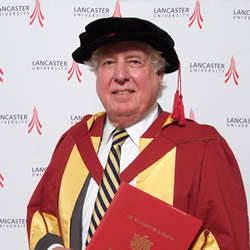 He is a co-author of the classic textbook, Principles of Corporate Finance, now in its 10th edition. He is a past president of the American Finance Association, an elected Fellow of the Financial Management Association and a Research Associate of the National Bureau of Economic Research.

His research is primarily concerned with the valuation of real and financial assets, corporate financial policy and financial aspects of government regulation of business.

His 1977 paper on corporate borrowing and his 1984 paper on corporate financing decisions are among the most highly cited papers in the corporate finance literature.

Professor Myers is a Principal at the Brattle Group and he is active as a financial consultant, advising major corporations on mergers and acquisitions, capital investment decisions, methods of financing, measurement of the cost of capital and valuation.

His work has spanned a wide range of industries, including oil and gas pipelines, telecommunications, software, railroads, pharmaceuticals, insurance and banking.