Study Abroad at Lancaster University
Many students have studied at Lancaster for part of their undergraduate degree. Credits can be transferred to your home university and applied to your degree here.
Lancaster University is one of the UK's top universities given its consistently high ranking in the UK league tables and is established as a world player in research and teaching.
Lancaster is one hour's train ride from Manchester, two hours from Edinburgh and 2.5 hours from London.
University accommodation is guaranteed to non EU study abroad and exchange students.
The Lancaster campus is one of the safest in the UK.
The Study Abroad Programme is fully integrated and you will study and live alongside UK and other international students.
Find out more about life at Lancaster.
When can I study?
You can study at Lancaster for:
Michaelmas term (October-December)
Lent & Summer terms (January-June)
Full academic year (October to June)
You can also study for a calendar year (January-December) if that fits best at your home university.
We also offer an International Summer Programme which runs for four weeks from mid-August each year and is worth four US semester credits or eight ECTS credits.
You must have completed a year of study at your home university before coming to Lancaster.
What can I study?
Courses are available in over 30 departments including science and technology, business and management, arts and social sciences, biomedicine and health.
What are the entry requirements?
You are expected to have a minimum GPA of 3.0, a credit or grade B average or equivalent. If you are not a native English language speaker, you will also need to have an English language qualification.
Find out more about our entry requirements.
How much will it cost?
If you are a student coming from one of Lancaster's exchange partners, or an Erasmus student from one of our partner universities, you pay fees to your home university and none to Lancaster University. Fees shown are in pounds sterling.
Tuition fees for 2013/14 are:
| | | |
| --- | --- | --- |
| Full Year (October to June) | £14,245 | 30-32 US semester credits/60-64 ECTS credits |
| Michaelmas term (October to December) | £5,698 | 12 US semester credits/24 ECTS credits |
| Lent/Summer (January to June) | £8,547 | 16-20 US semester credits/32-40 ECTS credits |
Lancaster is less expensive than many major cities. Find out more information about accommodation and living costs.
How can I apply?
You can apply in several ways. Entry requirements are the same in each case. Please see Study Abroad application procedures for further information.
Student Profile: Roxanne
Erasmus student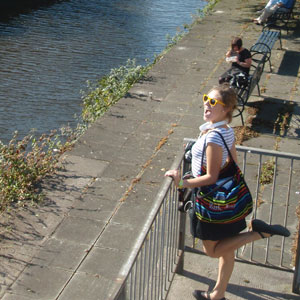 RoxaneMorin from France says she will never forget her time at Lancaster University. She comes from the Université Rennes 2 in Haute Bretagne and is at Lancaster studying a range of courses including English, History, French and Linguistics.
"I could not have dreamt of a better city, it just the perfect melting pot of everything I need for my third year. An enchanting and well-situated university that does not leave me out if I have issues, wonderful friends, a timetable full of activities and memories of delightful landscapes.
There is something for everyone – if you like to party hard or if you enjoy the quiet life. Nature lovers are not left out either: the Lake District is just an hour away, and you can enjoy many wonderful landscapes of lakes, mountains and forests."
‌