Undergraduate Research Conference
Undergraduate Research Conference
From discovery to impact: Unleash the power of undergraduate research.
Integrating research into the fabric of our undergraduate curriculum and culture is central to the Lancaster University mission. Each year we host an undergraduate research conference, where undergraduates from all disciplines and departments will have the opportunity to present and share their research via poster sessions and oral presentations to peers and staff.
The undergraduate conference is a recognition and celebration of the variety and quality of undergraduate research taking place at Lancaster. As a student or staff member, if you are interested in becoming involved with this initiative please contact Dr Kathryn James (Educational Development) and Dr Sue Ward (LEC) via ugconference@lancaster.ac.uk
2021 UG Research Conference
This conference will begin on Wed 10th March 2021. Put the date in your diary and watch this space for details of how to get involved and how to apply.
The 2021 Conference will have a global theme. It will be held wholly online and is open for contributions from all Lancaster University Teaching Partners*.
Students in 2nd, 3rd, and 4th year will have an opportunity to present a poster style presentation on a specifically developed conference website.
Students from all years are encouraged to support the conference through joining the organising committee, becoming a conference ambassador, promotor or conference website facilitator/support.
* Lancaster University Teaching Partners include: Lancaster Bailrigg Campus, BJTU; Blackburn College; Blackpool & the Fylde College; LU Ghana; Sunway University; UA92; LU Leipzig.
If you are interested in finding out more about how to get involved with the 2021 conference please contact Dr Kathryn James (Educational Development) and Dr Sue Ward (LEC) via ugconference@lancaster.ac.uk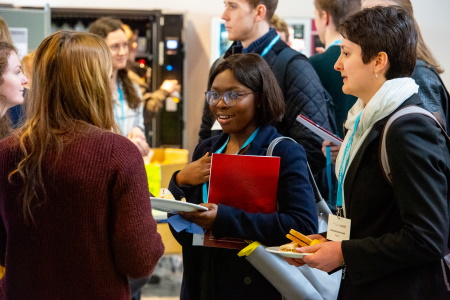 2020 Undergraduate Conference
Back in mid March 2020, just before lockdown, Lancaster held its inaugural Undergraduate Conference. As we plan for 2021, we reflect with delight and a sense of achievement on the event.
"From learning about lava flows on Mars, to the geographical histories of the Lake District and the relationship between austerity and the environment, the Lancaster University Undergraduate Conference 2020 was an informative, thought-provoking and fascinating event." Chloe Johnson (3rd year, Sociology), winner of the best poster prize.
Our first ever Lancaster University conference for undergraduates was held on Wednesday the 11th March 2020. The UG Conference Support Team were first to arrive to set up the George Fox building and to welcome their peers from across all faculties to present and celebrate their research.
The event, attended by over 100 student delegates, got underway with lunch, networking and poster presentations on a range of research topics.
‌
Professor Jane Taylor, Director of the Institute for Curriculum Enhancement, welcomed delegates, acknowledging the diversity of student contributions from planning to presentations, highlighting this as a "conference led by undergraduates for undergraduates". She welcomed Professor Tony McEnery, from Linguistics and English Language who gave a keynote address, asking, "What does research have to do with me". Tony's engaging talk invited us all to think about the opportunities and benefits of getting involved with being curious and meticulous throughout all our lives and not just work that is labelled as 'research'.
‌‌‌‌
The rest of the afternoon was dedicated to our student's work. For 3rd and 4th year students to present and disseminate their research, and for us all to learn about a wide range of topics. Presentation topics spanned all faculties of the University, and each session was deliberately organised to be a mix of discipline to give the audience the chance to experience something new.
Student and staff delegates commenting on the quality of the presentations, the outstanding and expert session chairing by students and the enthusiasm of the delegates. Both students and staff hailed the afternoon as a success, with comments such as:
Wow, it was great to see how passionate people are about their work and learn about other subjects other than my own
I very much enjoyed yesterday's conference; a huge variety in type of presentation, and a good overview of the quality of our students' work for visitors. The best were very good indeed. Well done to all involved
‌We all left knowing a lot more about the breadth of research undertaken by undergraduate students at Lancaster, and being proud of their contribution to Lancaster University's research community. Congratulations to all involved.