19 October 2017
'Comics are fun to read; therefore comics are for kids (and occasionally for adults, when no one sees them)' - many still think in such terms about comics. On the other end of the awareness scale, however, artists experiment with the endless potential of the medium, scholars research their history and varieties, and scientists and publishers use it to communicate complex and serious content. And, last but not least, all come together in comic art festivals such as the Lakes International Comic Art Festival (LICAF) in Kendal.
Lancaster University, which has also shown its support for comics through the appointment of the UK's first Visiting Professor in Graphic Fiction and Comic Art, Benoit Peeters, has a now well established partnership with LICAF. As part of the collaboration, academics from Lancaster, including myself, participated in the Academics Sessions that preceded the inaugural event of the festival on 12 October.
John McShane from Glasgow opened the afternoon with a talk on 'The Origins of Comics and Graphic Novels', highlighting the importance of the technology that made its development possible, lithography, invented by Alois Senefelder in 1796. This was the first moment in history when refined images could be replicated without the difficult process of engraving. Soon after, in 1825, the world's first comic magazine appeared in Scotland, The Glasgow Looking Glass. While this journal didn't survive for long, Rodolphe Töpffer in Geneva took up the form and, encouraged by no less than the greatest literary authority of the time, Goethe himself, began to publish his 'stories in etchings' in newspapers. He also went on to elaborate a theory of how a simple drawing of a human face will inevitably express an intellect and a morality. Töpffer is still very little known in the Anglo-Saxon world, which John is working on changing, including through the translation of Töpffer's essay on 'How to create graphic novels' for the festival.
While comics are now both a mass-market product and an academically recognised form of art, their potential is still far from being fully explored. Two of the new areas of development are science communication and comics research carried out in the form of comics. This was the focus of the panel discussion that involved Dr Stuart Medley and Bruce Mutard of Edith Cowan University Perth, Dr Joan Ormrod and Dr David Huxley of Manchester Metropolitan University, and myself. To also begin to practice what we preach, the discussion was recorded graphically as it progressed by Melbourne-based comic artist Sarah Catherine Firth.
Joan and David presented some of the ongoing work towards using comics not only as a form of expression, but also as a research method. While cartoon abstracts now practised by a few academic journals and publishers, students at MMU are encouraged to make comics part of their research process. Diabetes Year One is a great example of how the medium can help both the author-artist to explore an experience in a more direct and lived fashion and the reader to understand it more intuitively and perhaps more directly too than words only can do.
Moving onto a more theoretical level, I discussed the challenges of carrying out research on comics in the form of comics. A tension arises namely between the comics as a primarily narrative form and the nature of the scholarship, which works with abstract concepts and reasoning to build an argument. How can we reconcile the two and make their alliance meaningful and useful in a way so as to allow the comic medium not only to express or illustrate ideas first formulated verbally, but to be part of the thinking process itself? The real interest of comics research in the form of comics would be to further in entirely new directions the knowledge that has so far been grounded in words. On the other hand, comics have always talked about themselves as well, reflecting on their own nature, methods, and limits. If so, what can comics research in the form of comics add to the achievements of the existing artistic metacomics?
From his combined perspective as an artist and academic, Stuart Medley confirmed that the collaboration between theoreticians and artists could indeed take the reflections to another level. Pictures allow for both precision and complexity, especially as they break away from the linear mode of presentation used for traditional narratives. A more diagrammatic approach could express and reveal the complexity of relationships, and attention to the various ways in which pictures can communicate could help scholars better understand and theorize the workings of comics.
An ideal scenario is when the scholar is also an artist, therefore able to combine two ways of thinking. Nick Sousanis's Unflattening is a wonderful example of how this can work. Bruce Mutard gave us an insight into the material challenges to be faced when this is not the case. The research would then need to be carried out in collaboration between artist and scholar, only the latter of which tends to have a fixed salary to rely on. The artist would need to get paid for their time, and given that according to Bruce's calculations, producing a single article may take at least two months of full time work, each piece of such co-authored scholarship would require substantial funding.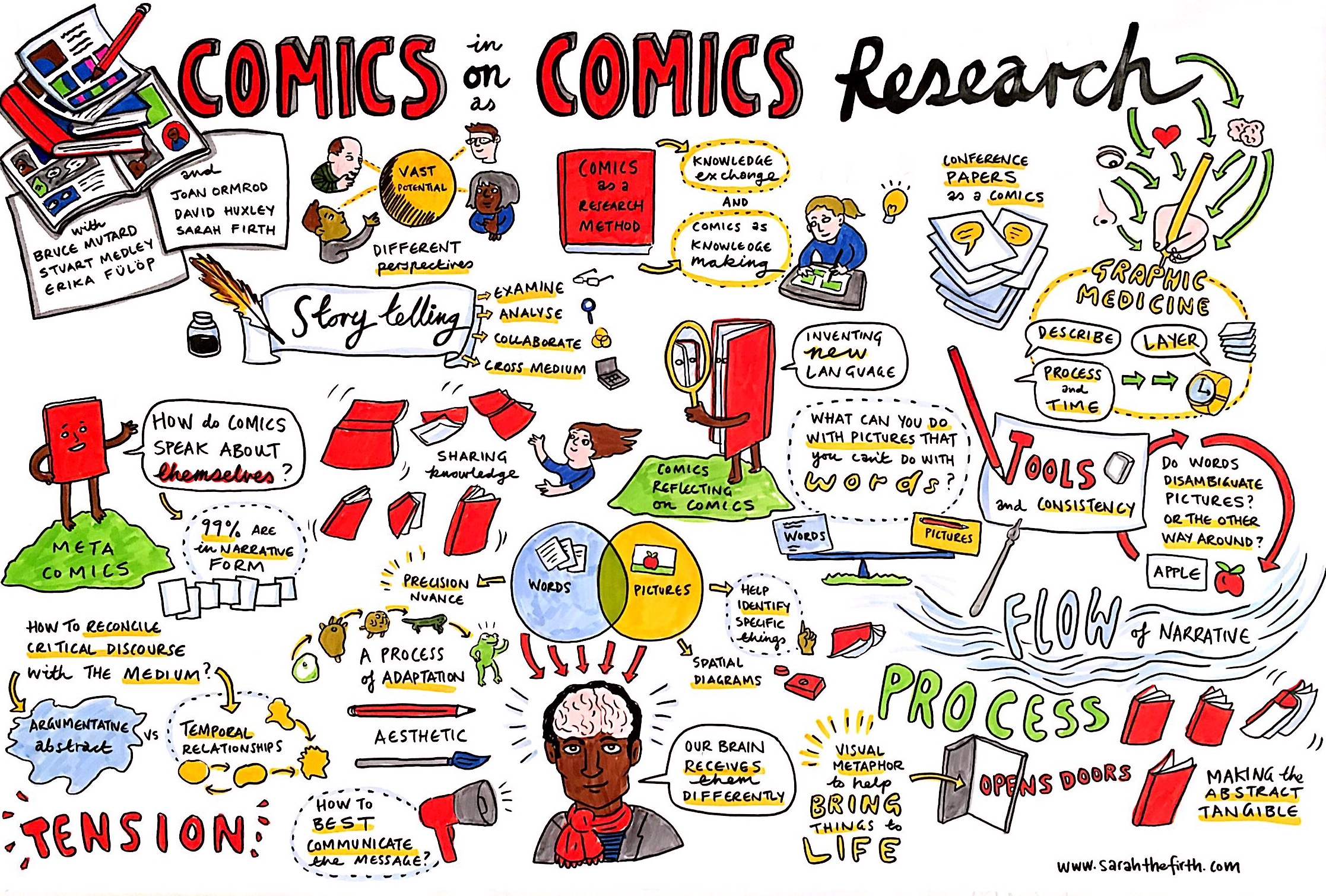 ©Sarah Catherine Firth, graphic recording of the panel discussion (http://www.sarahthefirth.com)
We do not yet have the answers to all these questions and challenges, but a first step is certainly to bring together the parties and highlight the potential of comics to both larger audiences and funding bodies. This is what Dr Natasa Lackovic and Dr Andrew Tate have been working on by launching the Graphic Novels and Comics: Research, Outreach & Pedagogy Network at Lancaster University. Building on the co-directors' research on comics in education and in literature respectively, the network aims to bring together academics, artists, schools and pupils, the industry, and the public sector in order to promote graphic fiction and comic art. Beyond its entertaining value, the medium offers a useful and exciting mode of communication and thinking that can be applied in virtually any area where texts have traditionally been used to shape and deliver knowledge.
Another initiative that will take the ideas further is Prof. Rebecca Braun and Dr Emily Spiers's 'Graphic Futures' project. This series of workshops at Lancaster University will invite local academics to work with Benoît Peeters and two of Lancaster University's other authors and graphic artists, Claire Dean and Ines Gregory Labarta, to explore possible and preferable social futures using graphic fiction techniques and to develop innovative research methods that bring together the visual and the verbal, and emphasize process and collaboration.
Erika Fülöp