From Lancaster Guardian, January 7, 2004
Further education project research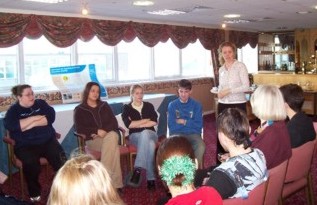 Researchers from Lancaster and Morecambe College and Lancaster University attended a lunchtime gathering to celebrate the developments of the ongoing Literacies for Learning in Further Education project.
College-based researchers Sarah Wilcock, Christine Phillipson and David Jarratt were joined by student researchers from catering and hospitality, travel and tourism, Childcare and media studies at a meeting hosted by college principal David Wood.
Project director Roz Ivanic thanked the students and tutors for their involvement and stressed the importance of their role in the three-year £800,000 Econimic and Social Research Fund project, which is researching how students' literacy practices outside their learning environment may be harnessed to help with teaching and learning developments in the further education sector.
After the lunch, students were given the opportunity to develop their own websites which will be linked to the project website.
The project, managed jointly with Stirling University, is now staffed by two full-time and two part-time researchers and involves 16 college-based researchers as well as 128 students throughout four FE colleges, two in England and two in Scotland.