Methodology: Collaboration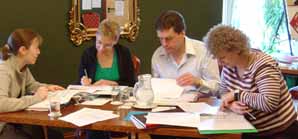 The Literacies for Learning in Further Education project was a collaboration between two universities and four Further Education colleges. Throughout the project researchers from the different sites worked together through face-to-face meetings, video conferences, email and on-line discussions.
We identified six principles of collaborative research-in-practice:
Work for understanding must be put before/instead of action for change.
Work done for understanding and/or change must not hinder teaching and learning, and will seek to make a positive contribution to learning.
Whatever is to be the subject of work for understanding or change must be seen to be relevant by those centrally involved.
Whatever work is involved must be indefinitely sustatinable, not conducive to early 'burn-out'.
Whatever is involved must bring people together (teachers with teachers, teachers with learners, learners with learners, teachers with researchers, etc. etc.) in a positive collegial relationship.
Whatever is involved must promote the development of understanding for all concerned (teachers and/or learners as well as researchers).
For further reference, see Dick Allwright (2001) Three Major Processes of Teacher Development and the Appropriate Design Criteria for Developing and Using Them'. Inr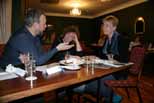 Bill Johnston and Suzanne Irujo (eds.): Research and Practice in Language Teacher Education: Voice from the Field. CARLA working Paper 19, Minneapolis, Minnesota, May. pp. 115-133
and for more on exploratory practice see http://www.letras.puc-rio.br/epcentre/epcentre.htm