Ethical issues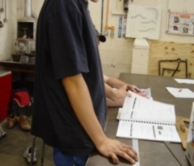 Any kind of research carries a moral obligation to those involved. One of the characteristics of the LfLFE project was its commitmentto collaborative research, whereby tutors and students in the FE colleges become researchers in their own right. This arrangement carries with it extra ethical issues, in that students, for example, become both researched and researcher. For the purposes of becoming involved in the project, students have been given consent forms to sign, which allow information they provide to be used for specific purposes, for example in the production of articles and presentations, and possibly on websites. Parental consent forms were also produced for students under 18. Participants were given the option of using pseudonyms.
It is important that the aims of the research – including improving the teaching and learning experience in FE – are reflected in the methodologies employed to gain information. Crucially, care was taken to safeguard participants' interests by minimising disturbance to their studies or working lives. However, the project also aimed to highlight aspects of the participants' lives which they may not have previously considered to be relevant or significant. There was an important balance between participants reflecting and learning through their research, but not to the detriment of their participation in formal learning or teaching duties.
The above is based on ethical guidelines for social researchers produced by the Faculty of Social Sciences' Committee on Ethics at Lancaster University (this opens on a new page). These are based on those issued by the British Educational Research Association (BERA) and the British Association of Applied Linguistics (BAAL).