Richard Brook's Acclaimed 'manchester MODERN' Explores Twentieth-Century Architectural Marvels in New Softback Edition
---
Professor Richard Brook, the esteemed Director of Research at Lancaster University's School of Architecture, is poised to release the latest edition of his celebrated work, 'manchester MODERN.' Scheduled for publication on November 3rd, 2023, this new edition records buildings lost to demolition since its first publication in 2017 and reinforces the importance of his ongoing recording of modernist heritage. The new volume is presented in a convenient and portable softback format, allowing architecture enthusiasts to delve into Manchester's rich cultural heritage.
This comprehensive field guide is a result of two-decades of exploration in addition to extensive archival research, documentation, and interpretation. Brook's holistic approach to research is thorough and distinct; he presents 111 buildings spanning the civic, religious, secular and commercial structures in Greater Manchester with careful consideration and a high attention to detail. Brook's black and white photography captures Manchester's grittiness in all its glory; meanwhile, the publication encapsulates Brook's deep expertise in the architecture of the region and displays his enthusiasm for Manchester and its urban infrastructure.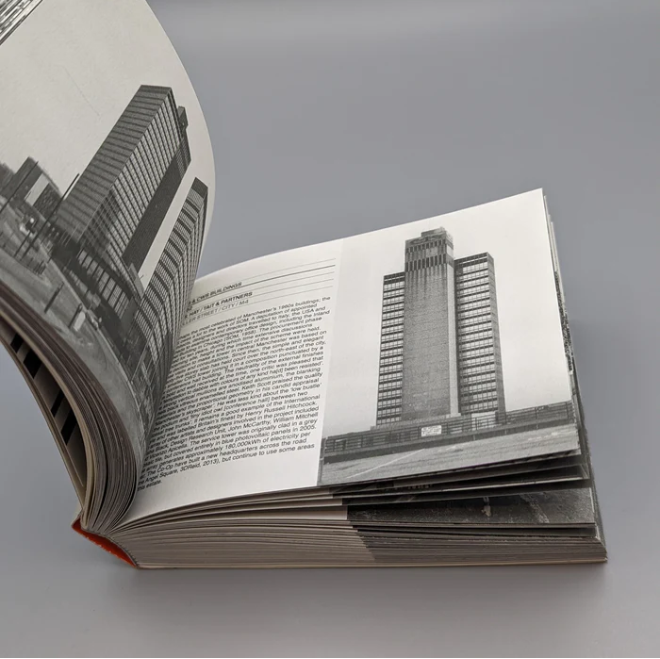 Vaseem Bhatti, an esteemed artist known for defining the unique aesthetic of various music labels and Manchester's cultural scene, including Warp Records, Lex Records, and Manchester's Skam Records, has collaborated with Brook for over fifteen years. Their distinctive design incorporates orange stitching, silver foiling, and other concealed surprises. Meanwhile, the cover, printed by Graphicom, displays a stylised image based on the cast concrete panels of the retaining walls of the Mancunian Way, Manchester's aerial motorway.
The creative collaboration between Brook and Bhatti, facilitated by the Modernist Society, builds on previous PVC and concrete editions; whose craftmanship and design are also uniquely astute. The softback edition also offers readers an aesthetically engaging experience. Brook weaves together intricate technical details and enthusiastic anecdotes that advocates for the everyday structures and landmarks that are so often overlooked, not to mention the architects and commissioners who created them.
'manchester MORDERN' marks a significant milestone in the visual exploration and celebration of Manchester's architectural history, where the structures that are often considered ordinary and banal are rendered into something entirely extraordinary.
***
Purchase 'manchester MODERN' here and see more of Brook's research on his website, Mainstream Modern, an integral resource, archive and a live project capturing the vibrancy and utopian ideals of twentieth century modern and modernist built forms.
Listen to 'A is for Architecture', where Ambrose Gillick and Richard Brook discuss Manchester's postwar renewal and the creative and cultural principles that developed it into a post-industrial city.
Back to News