Featured
Video
Lancaster Environment Centre recently held a residential training course for 24 PhD students on Soil Science 'The Soil Underfoot'.
The collaborative venture, between Lancaster and the British Society of Soil Science, is part of two newly funded NERC training courses running here this month and features a series of new films, shedding light on soil science.
Latest
Blog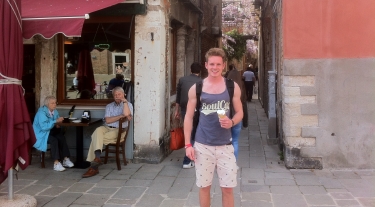 Studying water management in the Mediterranean
Conversations with experts and local children, field observations and beautiful views, good food and company, offered a multitude of perspectives during a fascinating field trip to Istria, according to third year Geography student Jamie Quinlan.
Read article
See more blogs
Thinking of studying at Lancaster?
We have an extensive range of highly rated undergraduate programmes in ...
International
Opportunities for collaboration include postgraduate and staff training, summer schools, exchange programmes, business and enterprise, and research.