Mobilities examines the large-scale movements of people, objects, capital, and information across the world, as well as more local processes of daily transportation, movement through public and private space and the travel of material objects in everyday life. New transportation and digital infrastructures and novel social and cultural practices pose important challenges for coordinating and governing mobilities and for mobility rights and questions of 'access'. These 'mobility' issues have generated new research methods and theories.
Mobilities publishes original, theoretically-informed research which is international in scope. The journal seeks to address major topical issues and to foster scholarly debate around the 'mobilities' turn.
Papers in the following areas would be considered for publication in Mobilities:
Mobile spatiality and temporality
Sustainable and alternative mobilities
Mobile rights and risks
New social networks and mobile media
Immobilities and social exclusions
Tourism and travel mobilities
Migration and diasporas framed in terms of wider mobilities theory
Transportation and digital technologies
Transitions in complex systems
Climate change and transportation energy
Papers should normally be between 8000-11,000 words in total. All submissions undergo rigorous peer review, based on initial editor screening and anonymized refereeing by up to three referees. There are 5 issues a year including special issues. The decisions of the editors are final.
Mobilities Journal Blog Posts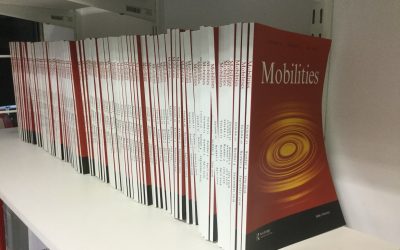 Mobilities: April 2020 Volume 15 Issue 4 To all our readers, authors, and colleagues we extend our good wishes for your health and safety during this global crisis - we hope you enjoy this summer holiday edition! Technological change and sociocultural models in...
read more