Traces
An exhibition celebrating the hidden work of cleaning staff at Lancaster (July-September 2022) Traces
A Lancaster Arts exhibition by José Garcia Oliva Traces
A Lancaster Arts exhibition by José Garcia Oliva Traces
A Lancaster Arts exhibition by José Garcia Oliva Traces
A Lancaster Arts exhibition by José Garcia Oliva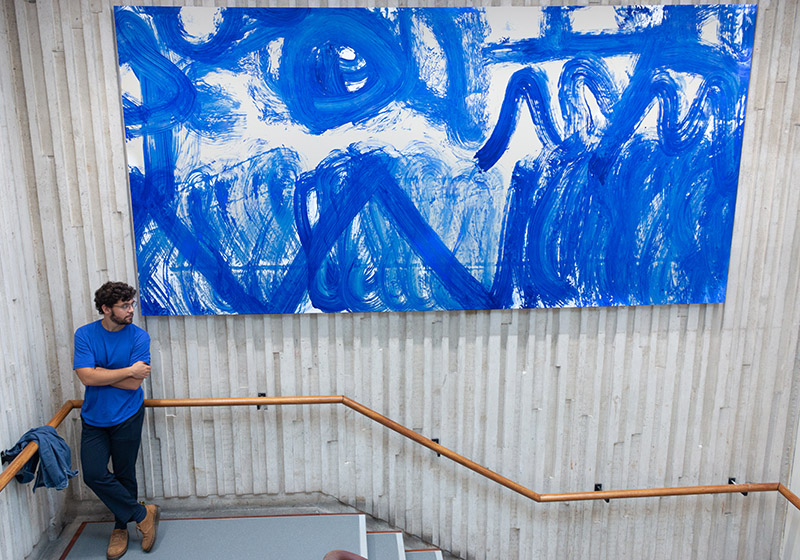 Traces, a Lancaster Arts exhibition by José Garcia Oliva
Traces is a unique art installation created by the University Library cleaners with artist, José Garcia Oliva in a new commission by Lancaster Arts. It was created in February 2022 after several months of conversations between the cleaning staff and the artist, who has been working with Lancaster Arts intermittently over the course of the pandemic. Oliva is a Venezuelan multidisciplinary artist whose practice explores identity, labour and cultural heritage.
Supported by the Lancaster Arts team, over 80 cleaners across Lancaster University, together with Oliva created a series of paintings which aimed to make the work of cleaning highly visible.
"Traces captures, visualises and reminds us of the enormous labour cleaners do every single day to keep the world moving." José Garcia Oliva
For further information, please see the artist's blog on the Lancaster Arts website.