At the heart of the library's vision 'The Library Towards 2025' is our ambition to be a library that is connected, that goes beyond providing just a service and a building and to work in partnership with all our Lancaster University communities, which includes providing students with opportunities to work with the library and have a central role in its development. We have developed a 'students as partners approach', employing undergraduate and postgraduate students to:
Ensure the student voice is embedded in all the Library and Learning Development does;
Co-create services, activities and spaces;
Increase graduate employability and academic performance; and
Provide paid employment for students on campus.
There are a number of schemes available, which are advertised through the Employment Recruitment Service (ERS) and other schemes at various times of the year, which include:
Library Student Ambassadors
Library School Engagement Ambassadors
Library student ambassadors
The library employs four students as Library Ambassadors, who work with library and learning development colleagues on projects and groups across the academic year. They are the first point of call for visitors on the undergraduate open days and offer-holder days, providing library tours and answering questions, and are also involved in Welcome Week activities, wellbeing events, EDI and recognition events, school and college engagement, social media activity and teaching and learning focused events.
You can find out more about our current ambassadors, the activities they have been involved in, and what they have gained from the experience below.
Jodi (2nd year Criminology & Sociology & member of Pendle College)
"Working as a Library Student Ambassador allowed me to gain experience in event organising and introducing people to the Library. I participated in the undergraduate open days and Library Festival in 2022, where I helped run those events and delivered guided tours to visitors. This gave me some essential skills, including event organising, customer service, and communication skills. I have also gained more confidence in interacting with people while involved in Library events, which is helpful for my personal development. I really enjoyed being able to contribute in many different aspects within the Library and receiving feedback that I had provided positive assistance and influences to the Library, its users, and visitors. Having the opportunity to work with different people around the Library is also a great experience in my role"   
Elizabeth (Final year English Literature & member of Furness College)
"Being a library ambassador for the last year has been a great experience, we have been able to be involved in a wide range of things, all of which were adapted and chosen due to our own interests. Working on the undergraduate open days made me a lot more confident in talking to the public (which will help me a lot in the future with potential jobs) and allowed me to get to know all of the library facilities better- something which has helped a lot when it comes to writing essays. I have enjoyed all of it, but my favourite part of the role is working with the social media team and creating 'Lancaster University Reads…' the virtual book club! I'm sad to be leaving at the end of this year!"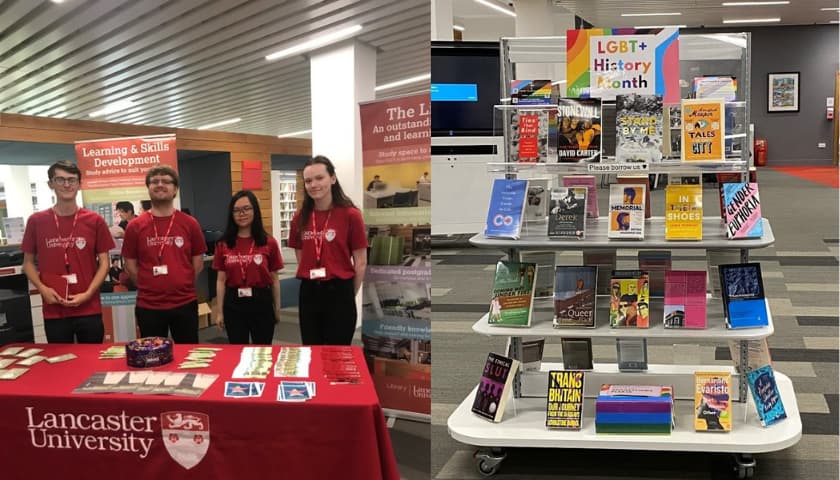 Library Schools Engagement Ambassadors
The library employs five Library Schools Engagement Ambassadors. The ambassadors support the Faculty Librarian team and their engagement with schools. Primarily working with college or sixth-form students undertaking an extended essay or research projects as part of their course, the ambassadors help support students on research days in the library, accompany and assist faculty librarians when they visit schools, and demystify the university by sharing their experience of University Life and their journey to get here.
The Library Schools Engagement Ambassadors were recruited through the Lancaster Success Programme and Grow Your Future schemes.
Shannon
"Hi, I am Shannon, and I am a second-year History (BA) undergraduate. I am currently a Library Schools Engagement Ambassador at Lancaster University Library working with A-Level students to aid them with their EPQ projects. I work mostly with these students regarding information literacy and aiding their transition to university providing personal tips and tricks for this transition. Furthermore, I am a friendly face to the students to whom they can voice their worries or questions about their EPQ projects and the transition into university. I enjoy helping students in this way because I understand what it is like to be faced with the daunting decision of university or not. I have been able to extend my advice and presentation skills much further because of this, it is a great way to give back to students!"
Elisha
"In my role as a Library Schools Engagement Ambassador, I work alongside the Faculty Librarian team to assist with a range of projects, from creating informational resources to providing support for library research days and outreach trips to schools and colleges. As part of this, I help students in Years 12-13 research and complete their Extended Project Qualification (EPQ) and share my experiences of Higher Education, with the aim of helping students to experience university before applying and encourage access to higher education. Working as part of the Library Schools Engagement Team has given me experience working as part of a wider team on a dynamic project in a professional setting. Being in this role has helped to develop my knowledge of information literacy- it has been invaluable for me in my degree, and it is really rewarding to be able to share this with school and college pupils considering higher education."
Charlotte
"Hi, I'm Charlotte and I'm a 1st year medical student. In my role as a Library Schools Engagement Ambassador, I've been able to work with the wider Teaching and Engagement Team, with a variety of projects ranging from EPQ information searching days, outreach visits to schools and presentations about transitioning to university. Having done an EPQ in college, I've thoroughly enjoyed being able to help college students with information searching and planning for their own EPQ. In addition, I've also been able to talk to students about life as a medical student, the transition from college to university and widening access to Higher Education. Working in this role has been an invaluable experience of working in a team, building knowledge of information literacy and being able to pass on my knowledge to college students. I'm looking forward to what else my role as Library Schools Engagement ambassador brings!"
Eleanor
"Hello! I'm Eleanor, one of the Library School Engagement Ambassadors and I'm a first-year student studying Psychology (BSc). I work alongside Faculty Librarians in creating library content for both existing and upcoming students, as well as assisting college students with their Extended Project Qualification (EPQ) when they visit the University to use our resources. As a widening participation student, I like to share my experiences of university experience as a mature student, and to spread the word that university is for everyone who wants to feed their need for curiosity and knowledge! Working in this role has helped to develop my communication and leadership skills, and I have had the great opportunity of learning more about the library facilities and being able to use them for my own degree. Despite being in my first year within the role, I have gained so much experience already and I can't wait to carry on being a Library School Engagement Ambassador next year!"
Career Taster Events
The Library offers students the opportunity to take part in career taster days and shadow our various teams. Read about Amelia's experience below:
"I'm Amelia, a third year English Literature and Creative Writing student. I took part in the careers taster days to learn more about the different roles in academic libraries. I had three days talking to library staff about their various roles, learning about the different technologies used by librarians, and shadowing the front of house library team. This was useful because it taught me about sectors of the library that existed which I had never heard about before."
"I loved seeing how diverse the careers in the library are, and the opportunities staff have to try new things and collaborate. I enjoyed talking to everyone about how they contribute to the successful running of the library and how they are working to make the space and its resources better for everyone. The staff were so friendly and supportive, the space is amazing and the community that the library promotes is wonderful. The experience gave me confidence in my future plans and confirmed that I want to work in academic libraries."
If you would like to learn more about participating in a career taster day please email library@lancaster.ac.uk.