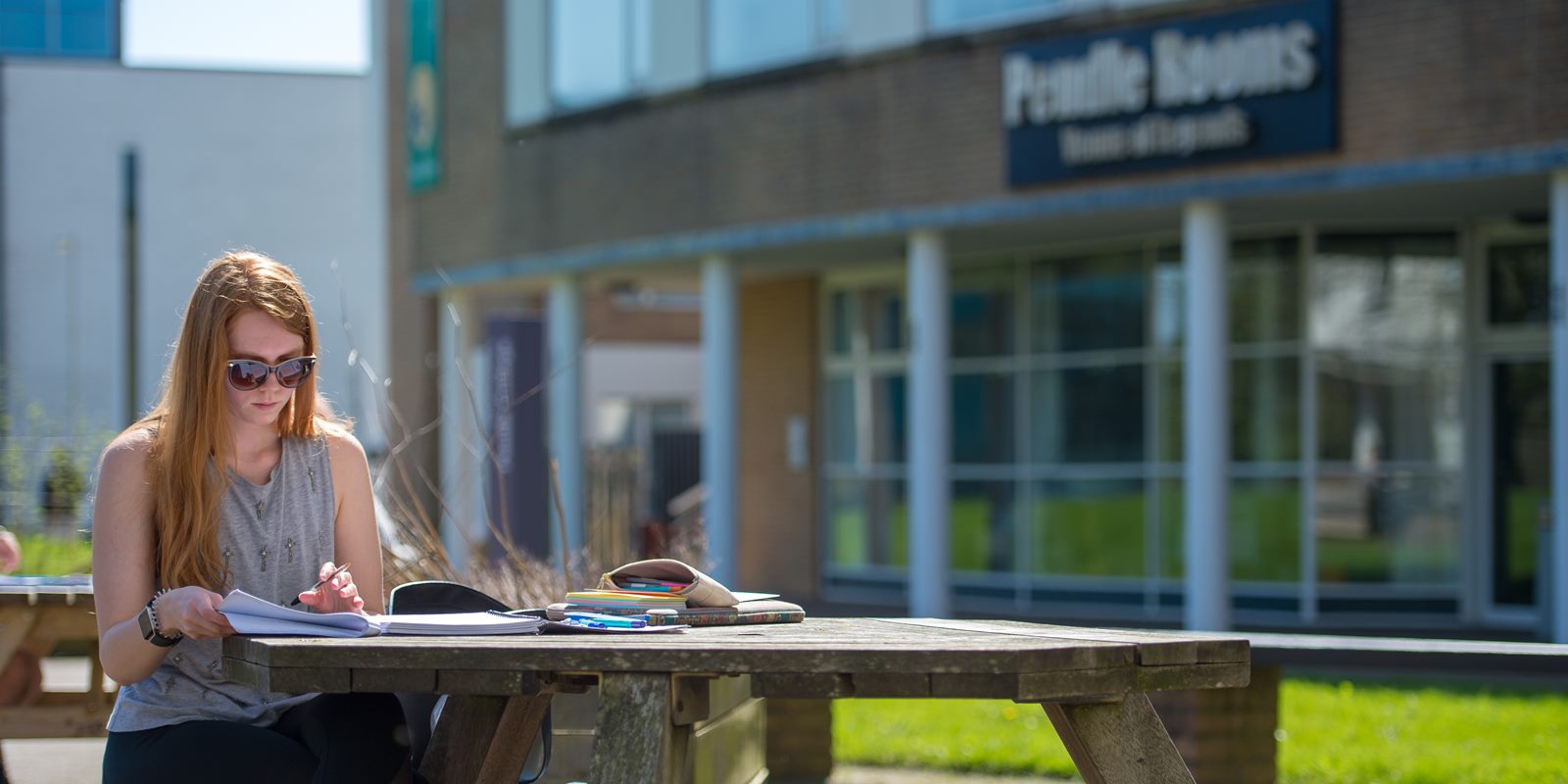 Welcome to Pendle College
Pendle College is one of the largest and most distinctive colleges at Lancaster University, with a tight-knit community of students from all backgrounds and walks of life.
Why Pendle?
Here at Pendle, we have a strong sense of our traditions and our students often develop a strong sense of loyalty and college identity.
Our standard room residence blocks surround three sides of a grassy quad, used for such annual open-air events as Extrav Night. Our social centre, Pendle Rooms, creates the fourth side, bringing together all aspects of college life. The large ground floor, complete with a performance stage, hosts Pendle Live nights, lunchtime talks and a wide range of student-organised events. There is also a first-floor games room with a communal area and meeting rooms. Our ensuite accommodation nestles with its own quad on South West campus along with our studio apartment block.
We're sociable, friendly and fun, but we also have a strong sense of commitment – to the College, to your degree, and to making a contribution locally, nationally and internationally, where we believe we should make a difference and do so because we can.
If you're the sort of student who likes to be involved, Pendle's where you belong!
A Message from our Principal
Hello and welcome to Pendle College!
If you are reading this, it is likely that you have decided to come to Lancaster University as a student or new member of staff (or are perhaps just thinking about that possibility at this moment) and are wondering about which college you might like to join.
The Pendle College web pages have been created to help you make a well-informed decision, and to give you some insight into who we are, what we do, and the sorts of things you can expect to find if you do choose to join us.
Collectively, the nine colleges that make up Lancaster University are a distinctive feature of the student experience, regardless of whether you choose to live on or off the main campus.
Our colleges offer each student much more than simply a room to live in – we are communities of people that provide a 'home-from-home' where every student is able to feel comfortable, safe and respected regardless of their backgrounds or circumstances. As such, the colleges provide the platforms that enable Lancaster students to get the most out of their university experience, from the moment they arrive to when they graduate and move on to pursue fulfilling careers and responsible lives.
All of the colleges reflect the basic principles and values of Lancaster University – they are all living examples of diverse groups of people who are ambitious, collaborative, inquisitive, progressive and supportive.
Nevertheless, each college has its own culture or 'feel'. At Pendle, our priorities include:
Creating a strong and vibrant sense of community, through music and live performances, recreational and competitive sports, volunteering on campus and in the local area, and green initiatives such as our 'community fridge' which is stocked with surplus food from nearby cafes and shops.
Health and wellbeing, including yoga and exercise classes held in the college, and personal advice and support offered by our team of in-college advisors and welfare officers.
Personal and academic progress and development, by creating additional high-quality study spaces within our college environment for individual and group use.
Appreciating and improving lives in the world around us – for example, through our annual travel grant scheme which enables both individual students and groups to visit other part of the world and to take part in extra-curricular education and community development initiatives.
Encouraging students with bright ideas for new initiatives, by providing practical and financial support, and recognising and celebrating our successes through our annual student awards.
Broadening our horizons by organising informal talks on important topics and matters of public interest.
Ensuring that our students graduate having benefitted from a fantastic college-based university experience, feeling confident and well-prepared for their future.
We hope you find the information contained in our web pages helpful (maybe even inspiring!), and we look forward to being able to welcome you to Pendle College and get to know you when you arrive at Lancaster University.