Alex Hamilton - Sensorium: Pictures from Nature's Laboratory
3 October – 13 December 2009
This exhibition was an exquisite display of images of flora, produced by ecological artist Alex Hamilton during his residency at Brantwood.
In June 2008, Alex Hamilton was awarded an Artist in Residence Grant by The Leverhulme Trust. He spent his residency at Brantwood, John Ruskin's home in Coniston. There, he produced cyanotypes, "a nineteenth-century form of image making", in response to the natural plants he observed. Hamilton also spent time studying drawings and watercolours held in our Museum's Whitehouse Collection, including two drawings made by John Ruskin in Glenfinlas, Scotland.
This expanded version of an exhibition was originally held at Brantwood in the summer of 2009. It included cyanotypes using plants from Brantwood and Glenfinlas, the setting of John Everett Millais' famous portrait of John Ruskin (1853-4). Prior to this exhibition, these cyanotypes were shown at the 2008 Edinburgh Festival.
"The process of entering a landscape site requires the consideration of its very nature rather than the outward view. When John Ruskin sought to teach Millais about landscape he took him into the site; not requesting a painting that looked out from the site. When he positioned his slate seat at Brantwood Ruskin's chosen view looked into a stream, not out across Lake Coniston. By entering a site one begins to reveal what nature can teach us - it is this idea that I chose to pursue in the exhibition 'Sensorium: Pictures from Nature's Laboratory'."
Alex Hamilton‌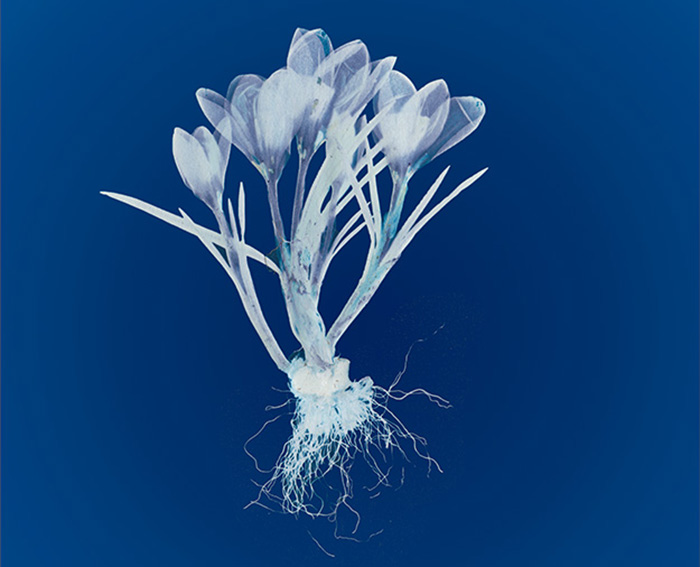 Alex Hamilton: Crocus. Cyanotype. © Alex Hamilton