Journeys of a Lifetime: Ruskin's Continental Tours
19 April - 28 September 2008
This exhibition explored the European adventures of John Ruskin on his many tours across the continent throughout his lifetime.
John Ruskin was a lifelong traveller. Beginning his first tour of Europe in 1825 aged 6, he explored the continent many more times before embarking on his final tour in 1888, when he was nearly 70. When touring with his parents, without whom he did not travel until he was 26, Ruskin almost always followed the "old road": a route from Calais through France and the Alps into northern Italy.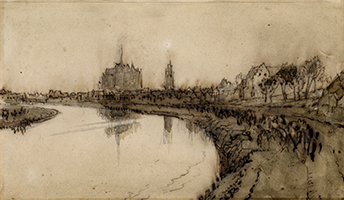 John Ruskin: Amiens From the River ('Jour des Trepasses')
On exploring Europe in this way, Ruskin followed in the footsteps of several English picturesque painters and became possessed by its great architecture and artwork. He realised that this beauty was characteristic of a Christian civilisation, one that was under threat in an age when even tourism itself was becoming industrialised. Ultimately, this concern fuelled Ruskin's underlying quest: the imaginative recovery of the cultural communities of Swiss towns as well as the 'revival' of the Middle Ages in northern France and the Italian city-states.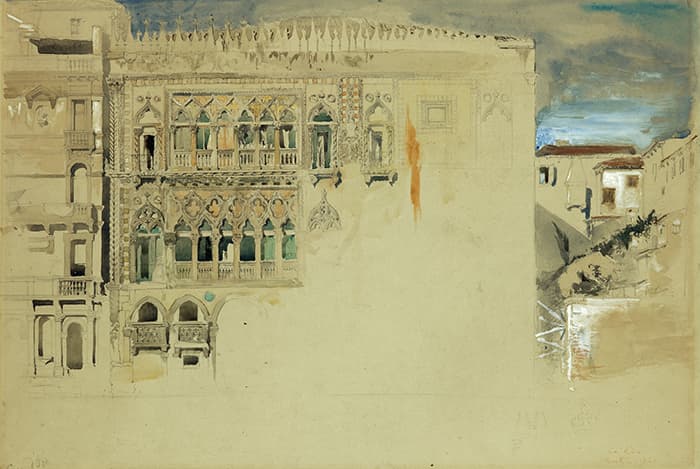 John Ruskin: Ca d'Oro, 1845
This exhibition formed part of Lancaster University's Ruskin Centre project named John Ruskin, Cultural Travel and Popular Access, which was funded by the Arts & Humanities Research Council (AHRC). It mapped out Ruskin's main routes across Europe and displayed key images representing his destinations of choice (which were mostly in Switzerland, Savoy, northern France and Italy - Chamonix, Amiens and Venice in particular). To illustrate the research aims and methods that Ruskin used whilst travelling, various drawings and journals of his were shown. Also displayed were some of Ruskin's guidebooks and "Travellers' Editions" of his own writings, which he developed for Victorian tourists to use.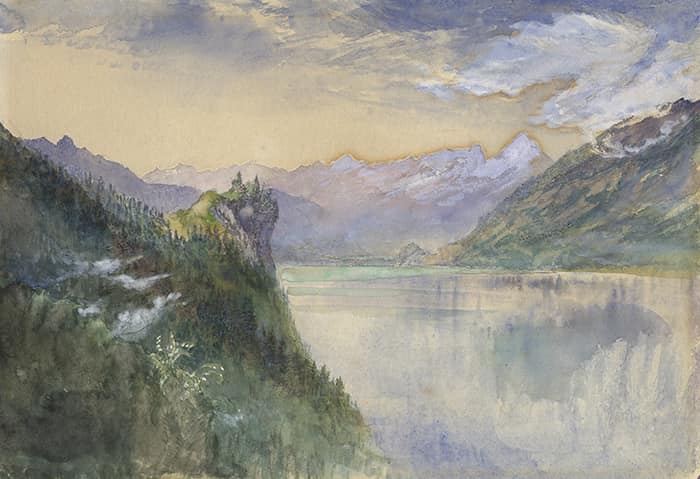 John Ruskin: Lake of Brienz from the Giessbach Hotel., 1866
Works by other artists including J.M.W. Turner and Claude Vernet were also featured in this exhibition. Such additions were generous loans from the Whitworth Art Gallery (University of Manchester) and Museums Sheffield (Guild of St George, Ruskin Collection), as well as from private collections.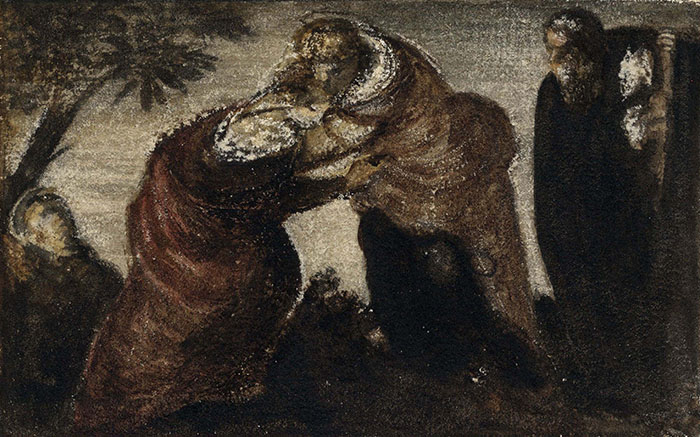 Edward Burne-Jones: Study of Tintoretto's 'Meeting of the Virgin and St Elizabeth'., 1862