Ruskin: The Author of 'Modern Painters'
9 October - 23 December 1999
This exhibition explored John Ruskin's inspiration for drawing, painting and writing about nature in his five-volume work 'Modern Painters'.
John Ruskin's various early written and drawn responses to both the natural world and to the works of J.M.W. Turner (two things he saw as very closely linked) dominated his future career. Writing Modern Painters in defence of Turner, Ruskin used his finely-tuned prose to encourage people to look at nature and society in a new light. After all, Ruskin felt that only a profound appreciation of nature could transform social values, and in turn begin to reverse the psychological and environmental damage caused by the industrial revolution.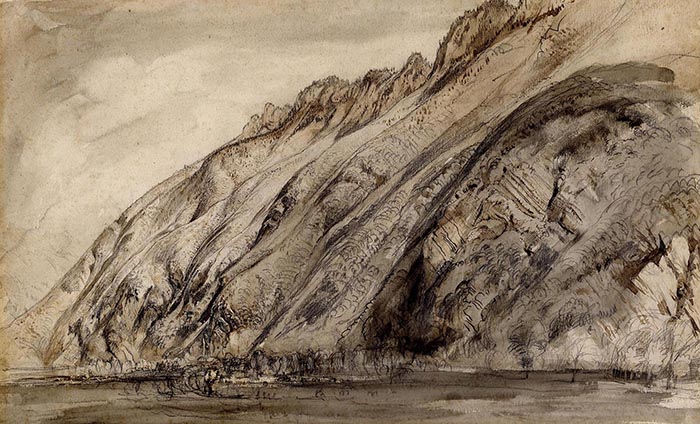 John Ruskin: The Mountains of Villeneuve, 1846
This exhibition displayed examples of work by the artists who first inspired Ruskin, including Turner, Samuel Prout and J.D. Harding, as well as drawings and watercolours by Ruskin himself, many of which were engraved as illustrations in Modern Painters. It was designed by Alan Davis and Claire Wildsmith (members of the Ruskin Programme), and Lawrence Woof (Editor of the electronic edition of Modern Painters I).