Exploring the city through the eyes of John Ruskin, with images from our Whitehouse Collection.
After experiencing a taste of Italy in 1833, John Ruskin's first visit to Venice came two years later, in 1835. Further visits in 1841 and 1845 (the first without his parents) convinced him that it was "the paradise of cities". Initially seduced by its romantic beauty, Ruskin later chose to undertake a far deeper study of its history, art and architecture than anyone had previously attempted, in his major work The Stones of Venice (three volumes).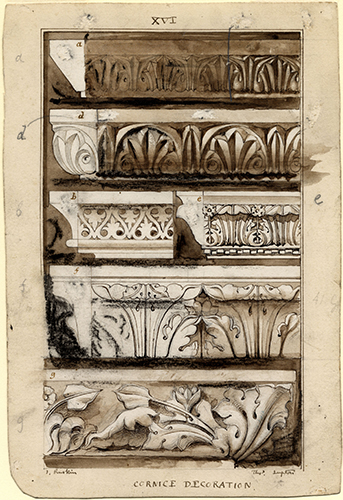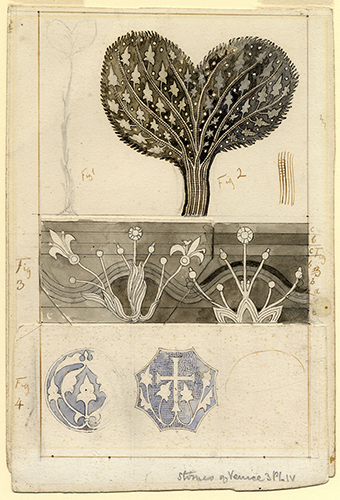 John Ruskin: Cornice Decoration and Mosaics of Olive Tree and Flowers (both later engraved for The Stones of Venice)
This display was drawn entirely from the riches of the Whitehouse Collection, which contains the largest body of preparatory material for The Stones of Venice (1851-53), as well as many other individual drawings, watercolours and photographs. Its exhibition coincided with the publication of a book by Robert Hewison called Ruskin on Venice (Yale University Press, January 2010). It also marked ten years since the Museum's first Venice-focused exhibition: Ruskin's Venice: 'The Paradise of Cities'.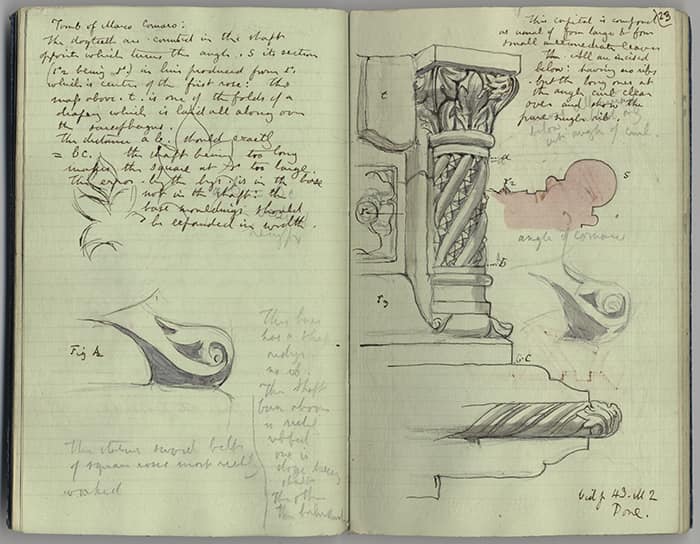 John Ruskin's Gothic Book (one of his Venetian Notebooks), page 23