Summer Miscellany
4 July – 27 September 2009
An eclectic mix of 'favourite things' from the Whitehouse Collection: drawings, manuscripts and more.
The Museum staff chose their favourite things from the collection and together created an exciting exhibition - a 'Summer Miscellany'. Amongst the personal favourites on display in this exhibition were new acquisitions and rarely exhibited items.
Focusing on drawings of English churches and cathedrals gave us the opportunity to display a wonderful depiction of Rievaulx Abbey by Alexander MacDonald, the first Master of the Ruskin School of Drawing at Oxford in 1871 who later became Keeper of the University Galleries.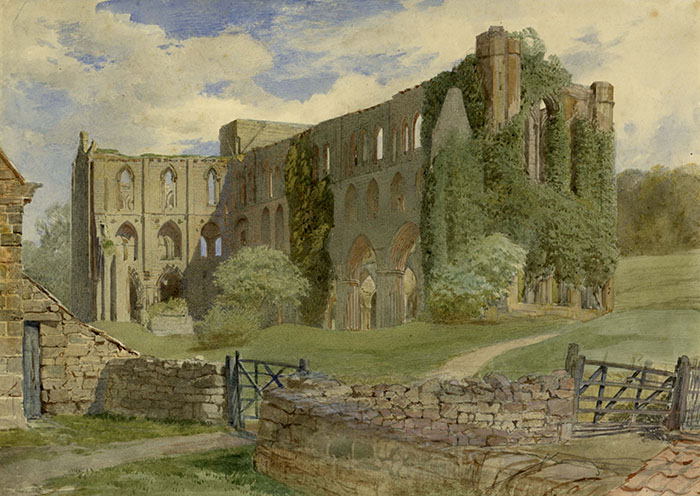 Alexander MacDonald: Rievaulx Abbey, Yorkshire
A variety of illuminated texts and medieval influences were shown, including the following three illuminated letters (the illuminated letter 'B' is in a letter Ruskin sent to a 'Mrs Blackburn').‌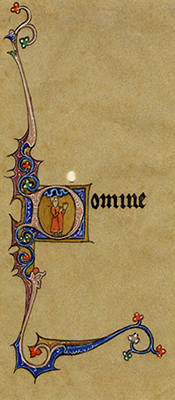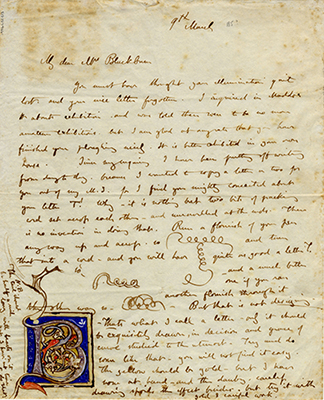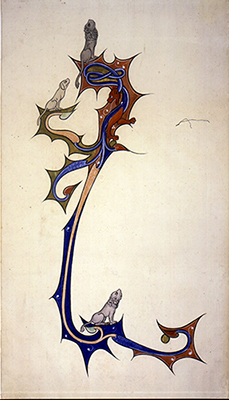 John Ruskin: Illuminated letter - Domine, a letter to Mrs Blackburn & Illuminate letter L
Also displayed were many pictures of 'favourite places' in England and on the Continent. This included Matlock, in Derbyshire, which Ruskin visited several times on his tours in England. Two suggestions have been made for the specific location of his drawing of Matlock: the lily pond of the New Bath Hotel at Matlock Bath, where Ruskin stayed on many occasions, and an area of Matlock Bath know as 'Lover's Walk', further up the valley and nearer to the hills of Masson and High Tor, which appears to feature within the drawing.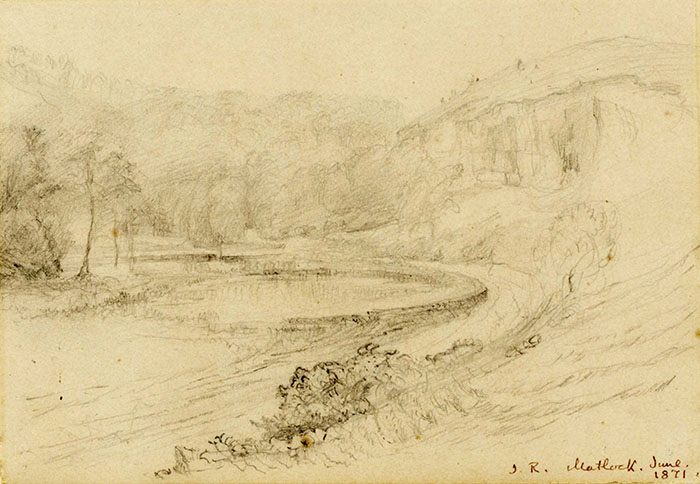 John Ruskin: Matlock, Derbyshire., 1871
Our then Director, Stephen Wildman, chose recently conserved work and new acquisitions. Becoming one of Ruskin's finest Venetian watercolours, his drawing of part of a ruin in the Rio di Ca' Foscari (Venice) was reproduced as a coloured lithograph in Examples of the Architecture of Venice, as Plate 9. It celebrates a piece of Byzantine architecture, but also includes "modern features" such as the window and gives a texture of romantic decay.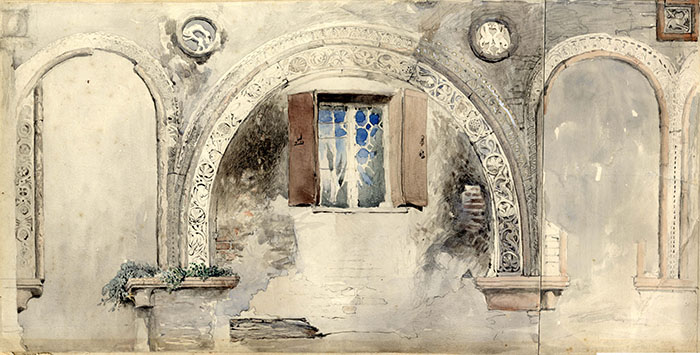 John Ruskin: The Stones of Venice: Stilted Archivolts, from a Ruin in the Rio di Ca' Foscari, 1849
This page showcases just a small sample of the wide variety of work included in this exhibition; other featured artists included Edward Burne-Jones, Thomas Bewick, the Severn family and T.M. Rooke.