This exhibition explored 'ethical consumerism', as taught by John Ruskin in reaction to the 'ugliness' he saw in Victorian times.
‌As the great Victorian critic of culture, John Ruskin began to teach about what we now call 'ethical consumerism' in response to the ugliness he saw around him, of poverty and pollution in particular.
For Ruskin, "the simplest example [of this] which we can all understand [is] the art of dress". He explained this idea of ethics and clothing in simple terms to his eight-year-old niece, telling her a story of "how the Fairies teach silkworms to spin the silk" used in dresses for girls. The lessons that emerged from this were that textiles should be inspired by nature, sustainable and environmentally friendly, community-focused and rooted in the local, simple yet aesthetically pleasing and finally flawed, as perfection is ultimately 'the work of machines'.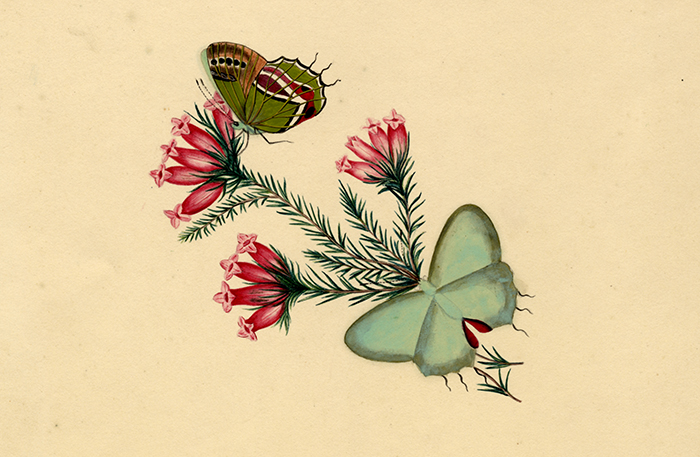 Susie Beever: Two butterflies on gorse
This exhibition, the first-ever dedicated to Ruskin and cloth, explored these ideas through related paintings and drawings of the Victorian era, books and manuscripts, and textiles inspired by Ruskin. Items on display included: the rarely-seen dress designed by the celebrated illustrator Kate Greenaway for the May Queen Festival at Whitelands College; examples of work from the Langdale Linen and Ruskin Lace industries, including original embroidery patterns and items made from them; and contemporary items made by the Lancs and Lakes Guild of Weavers, Spinners and Dyers. As such, this exhibition was appealing to anyone with an interest in textiles or ethical consumerism and was appropriate for visitors of all ages.


A‌n example of Ruskin lace, by Mrs Pemberton
This exhibition was supported in a number of ways. The Institute of Humanities and Social Science Research at Manchester Metropolitan University funded a term's sabbatical for the curator, Dr Rachel Dickinson. Furthermore, items other than those drawn from our Museum's Whitehouse Collection were generously lent by several institutions and individuals, including:
Special thanks are due to John Dickinson, Gilly King, Rebecca Patterson, Louise Pullen, Jen Shepherd, Diane Tyler and Stephen Wildman, whose expertise, flexibility and creativity made this first-ever exhibition on Ruskin and textiles possible.