The Master's Hand: Drawings by G.F. Watts
23 January - 17 April 2014
A loan exhibition from the Watts Gallery, showcasing works by the great Victorian painter and sculptor George Frederic Watts (1817-1904).
As a close contemporary of John Ruskin, George Frederic Watts (1817-1904) was another of the undisputed great Victorians; he was a versatile painter and sculptor, once dubbed 'England's Michelangelo'.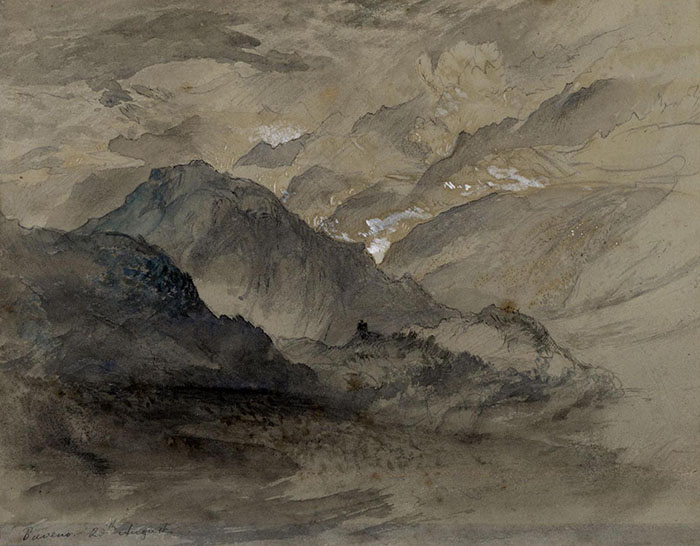 John Ruskin: Mountains and Lake, Baveno, 1845
Ruskin and Watts did not meet until around 1850, although their lives and backgrounds had mirrored each other in many ways. Although Ruskin's references to Watts' art in his writings are relatively few, he is generally positive towards the artist; despite his often dislike of artistic symbolism, Ruskin described the work of Watts and Rossetti as "the dawn of a new era of art, in a true unison of the grotesque with the realistic power" (Modern Painters, 1856, Vol. 3).
This exhibition consisted of 40 drawings covering all aspects and periods of Watts' work, from youthful exercises and Italian landscapes to preparatory studies for some of his most famous paintings and sculptures, including Love and Death (c. 1885-7) and The All-Pervading (1887-90). Also featured were portrait drawings including one of the actress Ellen Terry, whom Watts married in 1864, and Sir Leslie Stephen, father of Virginia Woolf.

John Ruskin: Mount Pilatus
Despite painting many famous Victorians for his 'Hall of Fame' series, Watts never painted a portrait of Ruskin; he confided that "it would have been impossible for me to attempt it, for I should have felt paralysed in his presence". In later years when it might have been possible, both were too old and ill to travel. Watts did, however, send a wreath to Ruskin's funeral in 1900, cut from the same laurel bush in his garden as his wreaths for Tennyson, Leighton and Burne-Jones.