'This Mountain Paradise': Ruskin on the Continent, 1835
12 May - 19 September 2014
"A delightful display of drawings" – Apollo Magazine.
On 2 June 1835, John Ruskin and his family set off on a continental tour which would last until December. Aged 16, Ruskin was already a seasoned traveller, having visited many places with his parents, John James and Margaret Ruskin: Scotland, the Lake District, Wales, the west of England and Kent (1826-1832), as well as Paris, Brussels (including the field of Waterloo, in 1825) and across the Alps as far as Milan and Genoa (1833). The itinerary for the 1835 tour helped to establish what would become Ruskin's "old road", a familiar route through France and Switzerland into Italy.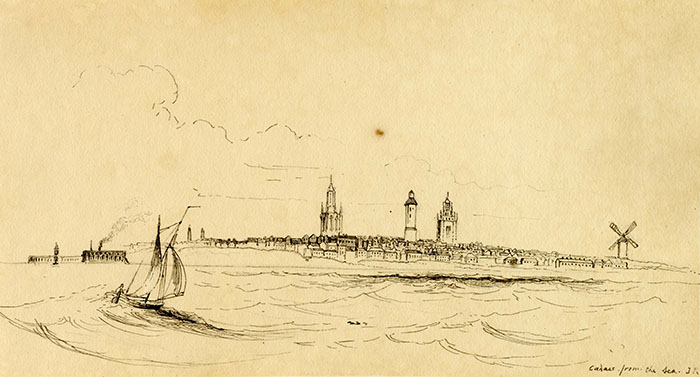 John Ruskin: Calais, from the sea, c. 1835
On this tour, Ruskin produced over 100 drawings. At least 41 of these are in the Museum's Whitehouse Collection and this exhibition showed pieces selected from this group. Several of these drawings were reproduced as wood engravings to illustrate The Poetry of Architecture, Ruskin's first important piece of writing, which appeared in The Architectural Magazine in 1837-38, yet only a small number of such drawings survive. Ruskin is also known to have made multiple attempts at turning his drawings into finished watercolours. Undoubtedly made back in England after the tour, these are effectively Ruskin's earliest works in the medium, other than copies after Fielding, and this exhibition showed two of the handful which have been identified.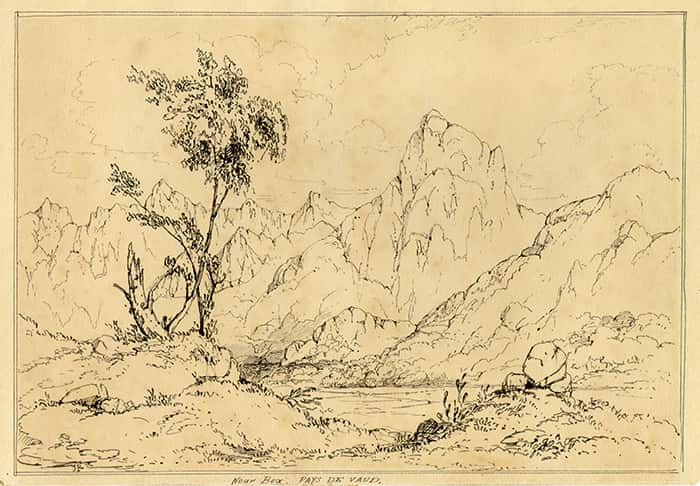 John Ruskin: Pays de Vaud, near Bex, 1835
Fifty years later, Ruskin described parts of the tour in the autobiographical Praeterita, emphasising its significance as his first visit to places which later became so important to him. As well as producing a vast number of sketches, he kept a diary of his travels, which concentrated on geology - one of his lifelong passions, and wrote a poetical account of much of the journey, which was published much later. ‌
With thanks to the Abbot Hall Gallery and two private collectors for their kind loans to this exhibition.