Our Location
The city of Lancaster enjoys a rich historical and cultural heritage, from the 12th Century castle, where the Pendle Witch trials took place, to Lancaster Priory and the Cathedral, where several of our public lectures and events are held. We are close to the Lake District and enjoy connections with the Wordsworth Trust, Grizedale Arts and Lancaster Literature Festival. On campus, we also work closely with the Ruskin Library and Research Centre, which partners with us for many live events.
Castle Quarter
Wordsworth, Romanticism and the Lakes
Being so close to the spectacular Lake District, home of the Romantic poets, the Department has world-class strengths in Romanticism. We have several colleagues who are leaders in the field, including Professor Simon Bainbridge, Professor Sally Bushell, and Professor Sharon Ruston. And we also have a partnership with the Wordsworth Trust at Grasmere, in the Lakes, which incorporates not only Dove Cottage, once the home of William Wordsworth, but also the Wordsworth Museum, its Gardens, and the Jerwood Centre which holds 90% of William Wordsworth's manuscripts, plus Dorothy Wordsworth's journals, and many other treasures such as the first edition of Mary Shelley's Frankenstein, and a major collection of Romantic-period water-colours.
Our partnership with the Wordsworth Trust is long-established, and now has a number of new benefits for all our students, whether BA, MA, or PhD. Among these is an Annual Study Day, which is open to all our students, and includes tours of Dove Cottage, Wordsworth Museum, and Gardens, plus bespoke seminars and workshops in the Jerwood Centre. The seminars have a literary and scholarly focus, whilst the workshops introduce students to some of the skills fundamental to working within the museum and heritage sectors.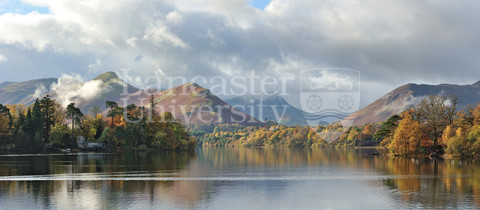 Lancaster Words
These videos from staff and students at Lancaster University contain tips about studying both English Literature and Creative Writing at degree level.
Lancaster Words
EDI (Equality, Diversity and Inclusion)
The Department is proud to have been awarded the Athena SWAN Bronze award for its commitment to promoting gender equality in all areas of its work. We are committed to the principles of the Athena SWAN charter, which recognises the advancement of gender equality in Higher Education. We are focused on implementing our ongoing action plan over the next four years.
The Department has an EDI group which meets regulary and consists of staff and students from all levels. Their remit is to promote, discuss and enage with all issues of EDI (Equality, Diversity and Inclusion) within the Department.