 Our Location
Lancaster boasts a spectacular Castle, medieval Priory, 18th century streets, neo-Gothic Cathedral, Georgian quayside, the Victorian Storey Institute, four museums, several music festivals, and two historic theatres, The Dukes and The Grand. The Department makes extensive use of such venues, occasionally with Lancaster LitFest. We also partner with the Wordsworth Museum at Grasmere, and on Campus with the Peter Scott Gallery, and the University Library.
Castle Quarter
Wordsworth, Romanticism and the Lakes
Being so close to the spectacular Lake District, home of the Romantic poets, the Department has world-class strengths in Romanticism. We have several colleagues who are leaders in the field, including Professor Simon Bainbridge, Professor Sally Bushell, and Professor Sharon Ruston. And we also have a partnership with the Wordsworth Trust at Grasmere, in the Lakes, which incorporates not only Dove Cottage, once the home of William Wordsworth, but also the Wordsworth Museum, its Gardens, and the Jerwood Centre which holds 90% of William Wordsworth's manuscripts, plus Dorothy Wordsworth's journals, and many other treasures such as the first edition of Mary Shelley's Frankenstein, and a major collection of Romantic-period water-colours.
Our partnership with the Wordsworth Trust is long-established, and has a number of new benefits for all our students, whether BA, MA, or PhD. Each year these normally include:
a Study Day, open to all our students, and including tours of Dove Cottage, Wordsworth Museum, and Gardens, plus bespoke seminars and workshops in the Jerwood Centres
one 3-month Traineeship (paid)
three 1-month Volunteer Placements (unpaid but with free accommodation on site)
free entry at any time of the year
plus
These roles are based in Grasmere. Start dates are flexible and negotiable and the roles are open to students studying at any stage (BA, MA, PhD). The roles are exclusive to students of the Department of English Literature and Creative Writing, and offer an excellent opportunity to gain training and experience in the literary heritage, museum and archive sectors.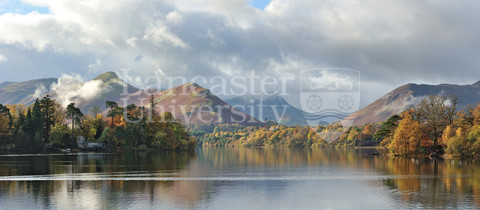 Free Online Courses
William Wordsworth: Poetry, People and Place
Explore the influence of the Lake District on Wordsworth with this free online course, filmed at his home, Dove Cottage, Grasmere.
Humphry Davy: Laughing Gas, Literature, and the Lamp
Explore the scientific culture of the Romantic era with our free online course.
EDI (Equality, Diversity and Inclusion)
The Department is proud to have been awarded the Athena SWAN Bronze award for its commitment to promoting gender equality in all areas of its work. We are committed to the principles of the Athena SWAN charter, which recognises the advancement of gender equality in Higher Education. We are focused on implementing our ongoing action plan over the next four years.
The Department has an EDI group which meets regularly and consists of staff and students from all levels. Their remit is to promote, discuss and engage with all issues of EDI (Equality, Diversity and Inclusion) within the Department.