Research
In the most recent national assessment (REF 2014) we were ranked third in our discipline for research power behind only Oxford and Cambridge.
We have world-class research strengths in all major areas of literary study and creative writing. Our critical-creative identity is underpinned by our two distinguished visiting professors: Terry Eagleton, the world-famous literary critic, and Paul Muldoon, one of the greatest living poets.
Our research is uniquely shaped by this juxtaposition of the critical and the creative and by our location in the historic city of Lancaster, with its medieval castle and close ties to the nearby Lake District, home of Romanticism.
Each year Professor Terry Eagleton, Professor Paul Muldoon and Professor Benoit Peeters, three of the world's most distinguished figures within literary criticism, poetry and the graphic novel, respectively, each offer a number of open lectures, MA seminars, and specialist PhD tutorials.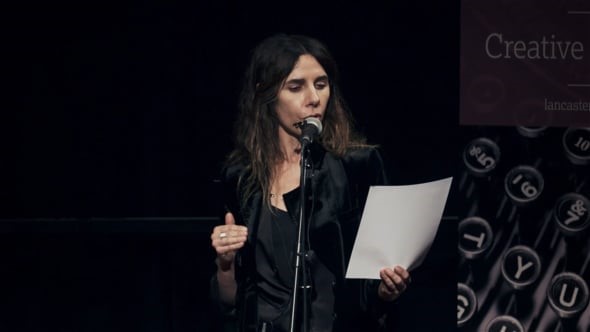 Watch Professor Paul Muldoon and PJ Harvey on stage at the Nuffield Theatre (July 2017) reading from their poetry and explore, through conversation, its relationship to song lyrics.
Major Research Areas The Shakespeare Programme was set up to promote the study of Shakespeare in Lancaster. The Wordsworth Centre For The Study of Poetry was established in 1987 by Professor Keith Hanley and is currently co-directed by Sally Bushell and Simon Bainbridge. Its primary aim is to promote interest in Wordsworth and the Lake District at an undergraduate, postgraduate and wider level. The Centre for Transcultural Writing and Research links writers, academics and the department's postgraduate student community to extensive research activity in creative writing and its impact on society. The Lancaster Writing Programme is one of the most prestigious centres for new writing in the country.