The College 1000
Become a part of your College 1000 today and support the needs of your college and its students. Half of your donation will directly support your college and the other half will provide much needed scholarships for students in greatest need. Join us today and help us achieve our goal of 1000 regular donors to make a real difference Lancaster students.
Become a member of the College 1000 campaign and make a real difference.
There's nowhere quite like Lancaster's colleges for their close-knit communities, inclusivity and diversity. We're incredibly proud of encouraging a friendly atmosphere and lively social life at Lancaster and, of course, our colleges love to compete with each other!
You can play your part by making a donation today and showing your support for your college.
Your College history is packed with fantastic achievements and collective memories - the summer Extravs, Graduation celebrations, sporting competitions, as well as staff and friends who have a special place in your heart.
Will you help to support the next generation of students in your College at Lancaster?
Find out more about how each college is using funds from the campaign and read about some of our student beneficiaries.
Presenting our College Champions
Our Champions are members of a highly valued group of philanthropists who genuinely appreciate the role that the Colleges have to play. Our Champions go that extra mile to support students and the college. They help us deliver more life-changing outcomes and they ensure that our campus reflects our reputation as one of the best universities in the world.
Read more about our college champions and why they have pledged their support to the College 1000 campaign below.
Martin Bragg
Project Engineering, Graduate College 1993
Martin spent his time in Lancaster University undertaking his MSc in the School of Engineering, Computing and Mathematical Studies (SECAMS) and graduated in 1993 as a mature student.
He went on to study for his MBA that had a focus to strategy within the private sector.
It is without doubt that his MSc and MBA have served him well throughout his career while he has no hesitation in stating that without his degrees he would not have enjoyed the success that has been noted. Success that has called upon his original degree certificates many times in the past 20-years and more!
He has been developing industrial control measurands for many years and is presently responsible for the technology portfolio of Honeywell Process Solutions ("HPS") Gas and Oil Metering Products and Systems. Honeywell is active in the market for Gas and Oil transmission, distribution and storage including for individual measurands and terminal automation.
He has designed, developed and implemented metering products and systems in various locations around the world. Prior to joining Honeywell Martin was the VP Technology for the Elster Group, and prior to that was the Global and Strategic Director for Oil & Gas at GE.
Martin is an active member of Honeywell's Mergers & Acquisitions ("M&A") team where his most recent assignment was to that of a $5.1Billion M&A Integration being aligned across two Honeywell Strategic Business Groups at corporate level. In his tenure at HPS the business has grown both organically and through strategic M&A's in excess of $1.4Billion in enhancing customers' deliverables.
He is a member of the BSI, ISO, and AGA technical committees for flow and was sponsored through his MSc by The Royal Academy of Engineering, London, who administered the Panasonic Trust. He holds an MBA that was focused on Strategy within the Private Sector. He is Six-Sigma certified and has driven lean manufacturing within two global technology businesses.
He is a member of the Institute of Directors and member of a number of professional Institutes plus a Fellow of the Institute of Materials, Minerals and Mining. He has worked with Universities in Knowledge Transfer Partnerships where he established a Research Chair and further sponsored five (5) PhD students within our industry.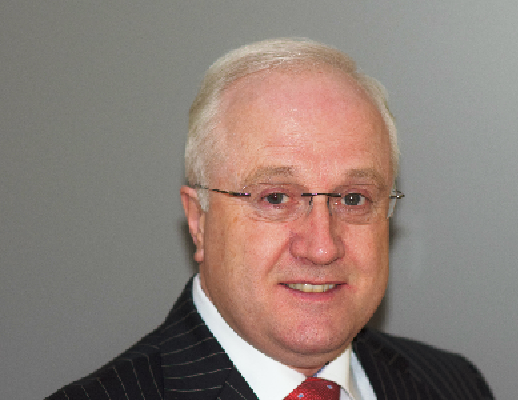 John Langford
Psychology, Grizedale College 1980
So here I am standing in Green Lane, back when it literally was a green lane. That's probably a bit of Pendle behind me, but the geography won't make sense to later generations. Grizedale has been a wandering college; starting in one small E-block in 76, before moving sideways into Pendle and bulldozed into a pile of rubble before re- emerging in its current spread out location.
I'm guessing this is the Winter of 78 or 79. Enjoying the great outdoors, because it's warmer than it is inside. The University went through months of not being able to get hold of any heating fuel, so luke warm water appeared for an hour in the morning and evening. Sometimes. Non-essential spaces were left unheated. Lecture theatres were like gatherings of Inuit, but armed with ring binders instead of seal spears.
Total Grizedale population is around 300, 250 of whom can be found in the bar (which is considered an essential space) and benefits from occasional gurgles from the radiators; the remaining 50 are trying to catch a bus.
Weekly budget to keep body and soul together, £5. Star Wars has just been released. The Clash are playing the Great Hall. We live at the end of the world in glorious isolation. The local butcher gives us a discount, because he knows we're all skint. Strangers stop to offer you a lift. You know nearly everybody in your year. On a clear night, we can pick up Kenny Everett on Radio Liverpool. Swimming in the Crook o' Lune. Lectures are optional.
Where's a time machine when you need one?
Jim Wood
Former Grizedale College Principal, 1991-1997
As a member of staff in the Department of Educational Research and School of Education I joined Grizedale in the early-1970s when it was still in its planning stages and before the foundations had - literally and metaphorically - been laid.
When we opened in the mid-1970s Grizedale was the smallest, and the last, of the undergraduate colleges to be built. It was definitely at the 'cheap and cheerful' end of the market: no en-suite in those days.
Things changed in the mid-1990s when we incorporated the then Pendle College buildings and overnight became the largest of the undergraduate colleges.
Although the last undergraduate college to be built we have the dubious distinction of being the first to be completely demolished and rebuilt, with the present buildings (definitely 'up market' this time) opening in the early 2010s and occupying roughly the same footprint as the previous site.
So Grizedale has come a long way over these 40+ years, and no doubt will be scaling even further heights in the years to come, not least as it builds on its current success in the sporting arena - but there again, that is only to be expected of the college which represented Lancaster University at the inter-universities football tournament held at Wembley Stadium in the late 1990s when we made it through to the finals.
Right: Grizedale College Principals (reading from left to right): Jim Wood, Paul Warren, Bob Bliss and Patrick Montague
Paul McCarthy
Head of Philanthropy, Lancaster University
Paul is our Head of Philanthropy at Lancaster University. In addition to his day job, Paul has also become a Lancaster University Pioneer, joining a group of dedicated philanthropists committed to the wellbeing of the University. Paul has considerable experience in philanthropic endeavours and comes to the University having completed several successful fundraising campaigns in the UK, Ireland, America and Asia. He has specialised in Higher Education and Arts based fundraising and has worked in the charity sector too.
Paul is a graduate with a BA in English Literature and a Postgraduate Diploma in Law.
Become a College Champion
Join a highly valued group of philanthropists
Find out how you can become a College Champion below
By Post
Philanthropy, Alumni and Supporter Engagement
C Floor
University House
Lancaster University
Bailrigg, Lancaster
LA1 4YW
United Kingdom
By Phone
+44 (0)1524 594109
We're here Monday to Friday 9am - 5pm
By Email
To contact a member of our team directly, please visit our contact page.
Fundraising Promise
Lancaster University is committed to ensuring that our fundraising is legal, open, honest and respectful.
This can be viewed from our Fundraising Promise and Formal Complaints Process page.