Extracts from Court Books and Rolls: Amercements
Amercements mitigated by the 'affeerors', Lazonby, 1669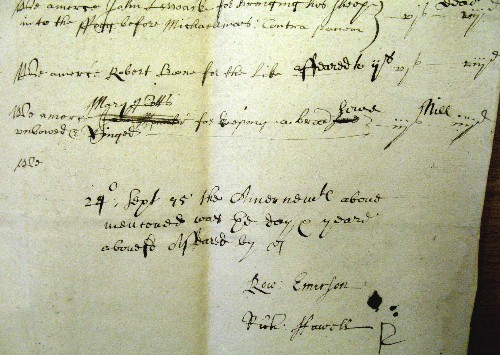 Source: Cumbria Record Office, Carlisle, D/ Mus/1/8/1, Lazonby court 1669
Transcript:
We amerce John Livoacke for Bringing his sheep into the Fogg before Michaellmas, contra penem –
vis viiid ['dead' written above sum]
We amerce Robert Boone for the like -
vis viiid ['affeared to iis' inserted before sum]
We amerce Mary Potts for keeping a brood sowe unbowed & ringed –
iiis iiiid ['Nill' written above sum]
24o Sept 75 the Amerciementes above mencioned was the day & yeare abovesaid Affeared by us
Row: Emerson
Rich: Fawell [mark: 'R']
Commentary:
An 'amercement' was the 'fine' imposed by the court for breach of a byelaw or order. In origin the word reflects the fact that the offender was deemed by his offence to have placed himself 'at the lord's mercy', from which the payment of the amercement freed him. An 'affeeror' was an officer appointed by the court to fix the actual sum taken from a transgressor by way of 'amercement'. Two affeerors were normally appointed; they often mitigated amercements to a sum much lower than that set by the court.
At the end of the court record shown above, the affeerors confirm that they have mitigated the financial penalties originally imposed by the court.  They have amended each presentment with the sum affeered.  In the three examples in this extract, they have reduced Robert Boone's fine from 6s 8d to 2 shillings and excused Mary Potts' fine altogether.  The note ('dead') above John Livock's fine is a reflection of the long gap between the original sitting of the court in 1669 and the work of the affeerors in 1675, perhaps suggesting that manorial administration was not very effective at Lazonby.