Verdict Sheet
Verdict sheet of Derwentfells, 1682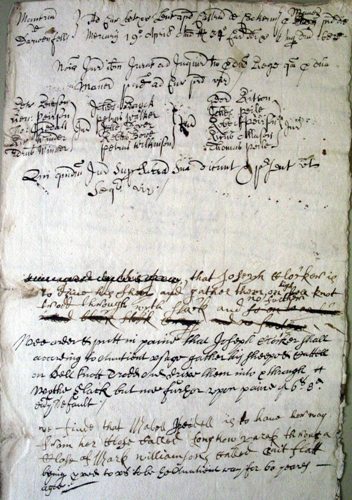 Source: Cumbria Record Office, Whitehaven, D/Lec, box 85, Derwentfells court verdicts
Calendar and transcript:
Preamble: Manor of Derwentfells, court leet held at Cockermouth Castle, 19 April 1682
Names of jury sworn to enquire on behalf of the king and the lord of the manor at the said court: 15 men named and sworn in
which said jurors say on their oaths and present as follows:
it is agreed by this jury that Joseph Clocker is to drive his Sheep and gather them on <high> bell knot trodd through wyth slack and <no further> so on to a place called black stock Cragg and no further. [deleted phrases underlined; insertions marked <..>]
Wee order & putt in paine that Joseph Clocker shall according to Auntient usage gather his sheepe & Cattell on Bell Knott Trodd and drive them into & through Wythe Slack but noe further upon paine of 6s 8d every default.
We finde that Mabell Iredall is to have her way from her Close Called Longhow parak throw a Close of Mark Williamson's Called Gait flatt being proved to us to be the Auntient way for 60 yeares agoe.
Commentary:
Verdict sheets are the original record of the court proceedings and would have been used to prepare the neat, formal record in a court roll or court book. By the 17th and 18th centuries, verdict sheets often survive as the only record. The upper part of this page, in Latin and in a neat hand, was prepared in advance of the court; the lower part, containing the presentments and orders, was completed at the court sitting. Often, as here, it is in a less literate hand and contains crossings out and insertions, reflecting editorial changes as the court came to decisions. In this case, the order concerning Joseph Clocker's right of way for his sheep appears to have been the subject of discussion and has been written out formally underneath a draft version containing much scratching out!
< Gallery