Petition
Petition of Gaven Bowe of Braithwaite for timber to repair his house, 1654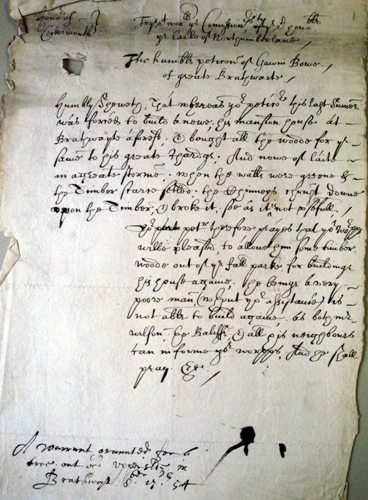 Source: Cumbria Record Office, Whitehaven, D/Lec/265/343
Transcript:
Honour of Cockermouth

To the right worshipfull the Commissioners to the right honourable
the Earle of Northumberland
The humble peticion of Gawin Bowe
of greate Brathwaite
humbly sheweth, That whereas you peticioner this last Summer was forced to build a newe his mansion house at Brathwaite aforesaid, & bought all the woode for the same to his greate chardge; And now of laite in a greate storme, when the walls were greene & the Timber scarce setled; the Chimneys crasht downe upon the Timber & broke it, soe as it is not usefull
Your petitcioner therefore prayes that your worshipps wilbe pleased to allowe him some timber woode out of the Fall parke for buildinge his house againe; he being a very poore man (without your assistance) is not able to build againe, as both Mr Wilson, the Baliffe, & all his neighbours can informe your worshipps. And he shall pray &c.
A warrant graunted for a tree out of upperside in Braythwayt 8ber 17th 54 [i.e. October 17th 1654]
Commentary:
Petitions were formal and formulaic requests from tenants to the lord of the manor. As the lord frequently retained rights to all timber within the manor, a tenant requiring timber for building purposes had to approach the lord or his officers in order to obtain a warrant (see an example of a warrant among stewards' papers) to cut down a tree, even if it stood on his farm. In this case, where storm damage had made it necessary for Gawen Bowe to rebuild his house, he asked for timber from the lord of the manor's demesne wood at 'Fall parke' (Fawe Park, on the shore of Derwentwater) but the earl of Northumberland's officers granted him a warrant for a tree growing in Braithwaite instead, as noted in the memo written at the foot of the petition.
< Gallery