Custumal
A summary of the customs of the manor of Preston Richard, 1731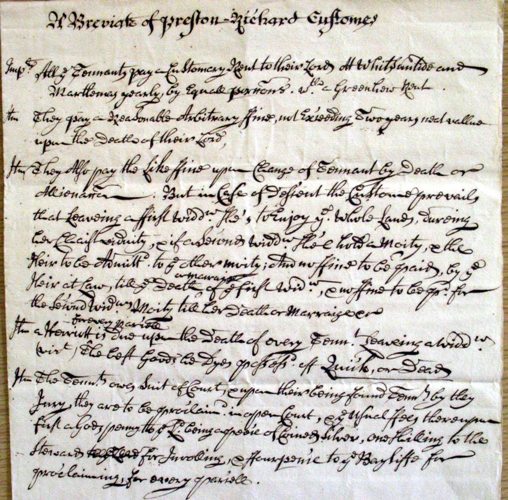 Source: Cumbria Record Office, Kendal, WD/D/PR1/2
Transcript:
A Breviate of Preston Richard Customes
| | |
| --- | --- |
| Imprimis | All the Tennants pay a Customary Rent to their Lord att Whitsuntide and Martlemas yearly, by Equall Porcions with a Greenhew Rent. |
| Item | They pay a Reasonable Arbitrary Fine, not exceeding Two years neat vallue upon the Death of their Lord |
| Item | They Also pay the Like Fine upon Change of Tennant by Death or Alienacion. But in case of Descent the Custom prevails that Leaveing a First Widdow she's to Enjoy the Whole Lands dureing her Chaist viduity, & if a Second Widdow she'l hold a Moity & the Heir to be Admitted to the other moity; And no Fine to be paid by the Heir at Law, till the Death or marriage of the first Widow, & no Fine to be paid fir the Second Widows Moity till her Death or Marriage. |
| Item | a Herriott for every parcell is due upon the death of every tennant leaveing a widdow (vizt) the best Goods he Dyes possessed off, Quick or Dead. |
| Item | The Tennants owes Suit of Court & upon their being found Tennants by they Jury, they are to be proclaimed in open Court, & the Usual Fees thereupon, first a God's penny to the Lord being a peece of Coined Silver, one shilling to the Steward for Inrolling, & Fourpence to the Bayliffe for proclaiming, for every parcell. |
Commentary:
A 'custumal' is a survey or rental which includes details of the rents, services and customs by which tenants held their land.
This is a late example of a statement of manorial customs, in this case restricted to the customs governing the customary tenantright on the manor of Preston Richard in Westmorland. Earlier custumals were often more formal and wide-ranging. The five paragraphs in this brief statement cover, in turn,
the payment of rents: here, as commonly found in Cumbria, the rent days were Whitsuntide and Martinmas (11 November). 'Greenhew' was a small additional rent which originated as a licence to cut green wood for fuel;
the payment of fines or gressums on a change of lord;
the payment of fines on a change of tenant, with the customs governing the rights of widows and the payment of fines in cases of widowhood;
the payment of heriots;
suit of court and the payments due to manorial officials when a new tenant was proclaimed and enrolled.
< Gallery