Admittance and Surrender Papers
1. Surrender and Admittance: Hutton in the Forest, 1730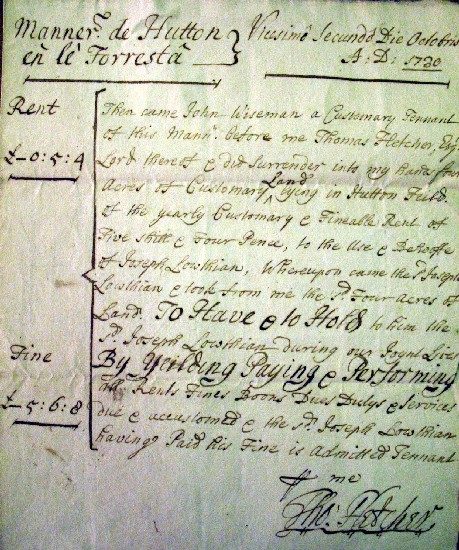 Source: Cumbria Record Office, Carlisle, D/Van/1/4/2/6
Manner[ium] de Hutton
en le Forresta

Vicesimo Secundo Die Octobris
A. D. 1730

Rent

£0:5:4

Fine

£5:6:8

Then came John Wiseman a Customary Tennant of this Mann[or] before me Thomas Fletcher Esqr, Lord thereof & did Surrender into my hands four Acres of Customary Land lying in Hutton Field of the yearly Customary & Fineable Rent of Five shill[ings]& Four Pence, to the Use & Behooffe of Joseph Lowthian, Whereupon came the s[ai]d Joseph Lowthian & took of me the s[ai]d Four Acres of Land.  To have & to hold to him the s[ai]d Joseph Lowthian during our Joynt Lives By yielding Paying & Performing all Rents Fines Boons Dues Dutys & Services due & accustomed & the s[ai]d Joseph Lowthian having Paid his Fine is Admitted Tennant
Commentary:
An example of the formal 'copy of court roll' recording the 'surrender' of customary tenantright land into the hands of the lord of the manor and the admittance of a new tenant.  In reality, John Wiseman had probably sold the land in question to Joseph Lowthian (a separate deed of sale would have been drawn up): the formal surrender and admittance was a requirement of the customary tenure, enabling the lord of the manor to take his entry fine (here 20 times the ancient yearly rent). On many manors the steward would sign such admittances but here the transaction has taken place in front of the lord of the manor, Thomas Fletcher, in person.
2. Admittance at a General Fine: Hutton in the Forest, 1786
Source: Cumbria Record Office, Carlisle, D/Van/1/4/2/6
Commentary:
By the later 18th century printed pro formas were used to record admittances, especially, as here, when all the tenants in a manor were re-admitted on the death of the lord of the manor.  Technically, the land reverted to the lord of the manor on the death of the previous lord and tenants had to pay a 'general fine' to be readmitted.  In this example, the land to which the tenant, Elizabeth Gibson, was readmitted consisted of two separate entities as far a the manorial administration was concerned: a 'messuage and tenement' (i.e. house and land) of the ancient yearly rent of 15s 0d and some named parcels of land with a yearly rent of 6s 10d.  Two separate fines were assessed, each 20 times the yearly rent, following the custom of the manor of Hutton in the Forest.
For further examples, follow this link to extracts from court books and court rolls: court admittances and surrenders.