Enfranchisement
Extract from a draft enfranchisement agreement: Liddell barony, 1758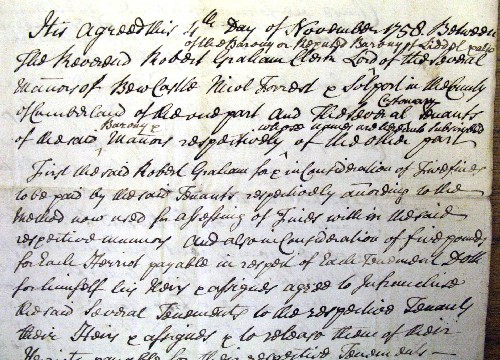 Source: Cumbria Record Office, Carlisle, D/GN/2/6
Transcript:
(Insertions are indicated thus <...>)
It is Agreed this 4th day of November 1758 Between The Reverend Robert Graham Clerk Lord <of the Barony or Reputed Barony of Liddel & also> of the Several Manors of BewCastle Nicol Forrest & Solport in the County of Cumberland of the one part And The Several <Customary> Tenants of the said <Barony &> Manors respectively <whose names are hereunto Subscribed> of the other part
First the said Robert Graham for & in Consideration of Five fines to be paid by the said Tenants respectively according to the Method now used for assessing of Fines within the said respective manors And also in Consideration of five pounds for Each Herriot payable in respect of Each Tenement Doth for himself his Heirs & assignes agree to Infranchise the said Several Tenements to the respective Tenants their Heirs & assignes & to release them of their Heriots payable for their respective Tenements ....
Commentary:
Enfranchisement (the conversion of a copyhold or customary tenancy into a freehold) gathered pace from the 17th century, taking place on many (but by no means all) Cumbrian manors during the later 18th century.  For enfranchisement to take place, the lord and tenants had to agree terms, the tenants paying a sum of money to buy out the lord's rights to entry fines, heriots, woodland etc.  In this case the terms were a single payment equivalent to a fivefold entry fine plus a sum of £5 for each heriot due to the lord.
< Gallery