Fines (gressums)
1. Extract from a schedule of payments for entry fines (gressums): Bleatarn, Westmorland, 1614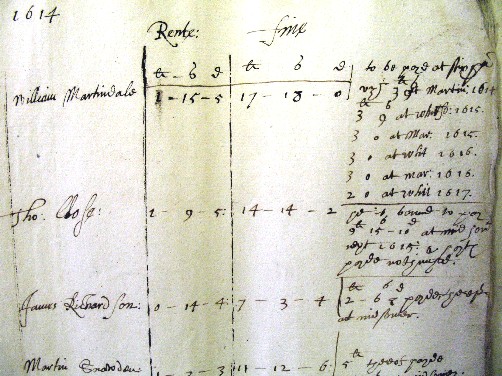 Source: Cumbria Record office, Carlisle, D/Mus/1/2/2/4
Commentary:
An example of a working document describing the payment of entry fines, which on some manors formed the most valuable source of income to the lord.  In the manor of Bleatarn, near Warcop, the fines were approximately 10 times the ancient yearly rent: expressed in shillings, Thomas Close's rent (£1 9s 5d) was 29.42 shillings and his fine (£14 14s 2d) was 294.2 shillings.  The sums due in fines were substantial and more than many tenants could pay in a single payment; hence the schedules outlined here. Beside each tenant's name is listed the ancient yearly rent (column headed 'Rente') paid for the holding; the entry fine (column headed 'fine'); and details of the instalments by which the fine was to be paid (right hand column).  William Martindale was to pay his fine of £17 18s 0d in six instalments of between £3 9s 0d and £2, to be paid at the customary rent days of Martinmas (11 November) and Whitsuntide over a three-year period.  Thomas Close appears to have deferred payment of his fine until midsummer 1615, when £9 15s 10d (two-thirds of his full fine) was due.
2. Fines assessed at Aspatria, August 1627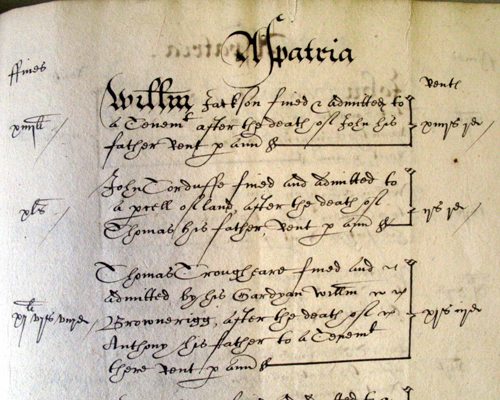 Source: Cumbria Record Office, Whitehaven, D/Lec/314/43
Transcript:
| | | |
| --- | --- | --- |
| | Aspatria | |
| Fines | | Rentes |
| | | |
| xiiiili | William Jackson fined & admitted to a Tenement after the death of John his father, Rent per annum | xiiiis id |
| xls | John Torduffe fined and admitted to a parcell of land, after the death of Thomas his father, Rent per annum | iis id |
| xili vis viiid | Thomas Trougheare fined and admitted by his Gardyan William Brownerigg, after the death of Anthony his father to a Tenement there Rent per annum | xis iiid |
Commentary:
On a large estate such as the Percy estate in western Cumberland, of which the manor of Aspatria was a part, separate registers of admittances were compiled to keep account of fines due and collected. In this example, the three customary tenancies have passed by descent. The entry fines are approximately twenty times the ancient yearly rent (£14 where the rent is 14s 1d; £2 (40s) where the rent is 2s 1d and £11 6s 8d where the rent is 11s 3d).
< Gallery