Terrier
1. Terrier: extract from Thomas Bankes' survey of the barony of Burgh by Sands, 1638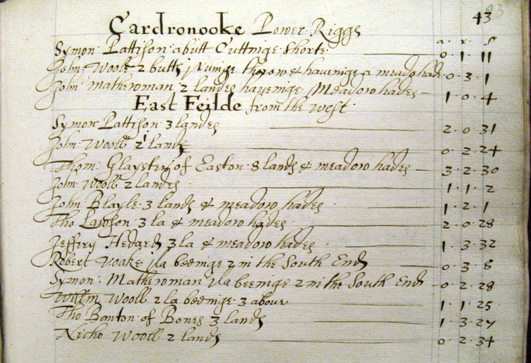 Source: Cumbria Record Office, Carlisle, D/Lons/L5/2/41/53,
with the kind permission of the Trustees of the Lowther Estate
Transcript:
Cardronooke Power Riggs

a.
r.
p.
Symon Pattison a butt Cuttinge Shorte
0
1
11
John Woole, 2 butts 1 runinge thorow & haveinge a meadowhade
0
3
11
John Mathewman 2 landes haveinge Meadowhades
1
0
4

East Feilde from the west

Symon Pattison 3 landes
2
0
31
John Wooll ['2' erased] 1 lande
0
2
24
Thom[as] Glayster of Easton 8 lands & meadow hades
3
2
30
John Wooll 2 landes
1
1
2
John Blayle 3 lands & meadow hades
1
2
1
Tho[mas] Lawson 3 la[nds] & meadow hades
2
0
28
Jeffery Hedard 3 la[nds] & meadow hades
1
3
32
Robert Voake 1 la[nd] beeinge 2 in the South End
0
3
8
Symon Mathewman 1 la[nd] beeinge 2 in the South End
0
2
28
Will[ia]m Wooll 2 la[nds] beeinge 3 above
1
1
25
Tho[mas] Banton of Bones [i.e. Bowness] 3 lands
1
3
27
Nicho[las] Wooll 2 lands
0
2
34
Quick Glossary:
| | |
| --- | --- |
| a.r.p. | acres, roods and perches: the areal measure of land. 1 acre = 4 roods; 1 rood = 40 perches. The measurements in this survey probably used the customary acre which varied in size but was often based on a 21-foot (7-yard) perch, giving an acre of approximately 1.6 statute acres (0.65 ha). |
| butt | a short strip in an open field |
| land | a strip in an open field |
| meadow hade | an area of grassland within the arable field |
Commentary:
A 'terrier' is a survey arranged topographically, field by field (or, in the case of open arable fields, strip by strip).
This extract illustrates the remarkable topographical detail in the survey of Burgh Barony undertaken by Thomas Bankes in the summer of 1638 for Thomas Howard, second earl of Arundel and Surrey. Bankes was probably a representative of the new profession of land surveyors, who were employed by landowners to provide definitive surveys and valuations of their estates: he may have been the Thomas Bankes who is recorded as working as an estate surveyor in Northamptonshire in the 1630s. Parts of Bankes' survey take the form of a terrier, listing land topographically rather than by holding. This extract, from the survey of Cardurnock on the Solway coast, describes parts of the village's open fields. It gives a vivid impression of the open field strips ('lands' and 'butts') some of which are party plough land and part hay meadow: the 'meadow hades' were probably damper, lower-lying land at the end of the strips. The description '1 land beeinge 2 in the South End' presumably describes a strip which widens and divides into two ridges at one end. Bankes' survey also includes descriptions arranged by holding (see another example below).
2. Contrasting descriptions of holdings at Boustead Hill, near Burgh by Sands, in the tenure of the Matthews family, 1589 and 1638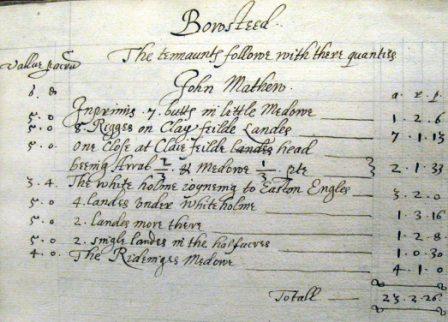 Source: Cumbria Record Office, Carlisle, D/Lons/L5/2/41/53,
with the kind permission of the Trustees of the Lowther Estate
Transcript:
Bowstead

The tennaunts followe with there quant[it]ies

Vallue per annum

John Mathew

s.
d.
a.
r.
p.
5
0

Inprimis 7 butts in little Medowe

1
2
6
5
0

8 Rigges on Clay feilde Landes

7
1
13
5
0

One Close at Claie feilde head ['landes' erased]beeing Arrab[le] 2/3 & Medowe 1/3 p[ar]te

2
1
33
3
4

The white holme joyneing to Easton Engles

3
2
0
5
0

4 landes under Whiteholme

1
3
16
5
0

2 landes more there

1
2
8
5
0

2 single landes in the halfacres

1
0
30
4
0

The Rideinges Medowe

4
1
0

Total

23
2
26
Commentary:
Thomas Bankes' remarkable survey of Burgh barony in 1638 includes field by field descriptions of tenants' holdings. John Mathew's holding was typical of many in the Cumberland lowlands. It contained a little over 23 customary acres (probably c.37 statute acres (15 ha)) and consisted of a mixture of strips in open arable fields and hay meadows (the 'riggs', 'butts' and 'lands') and separate enclosures ('closes'). Compare the detail of this description with the cursory summary of the following:

Source: Cumbria Record Office, Carlisle, D/Lons/L5/2/41/49,
with the kind permission of the Trustees of the Lowther Estate
Transcript [contractions expanded]:
Willielmus Mathewe tenet similiter unum tenementum x acras terrae arrabilae et duas acras prati ibidem cum Communia pastura et reddit per annum ad festum predictum vs viiid [in another hand:] vis viiid per rental'
Translation:
William Mathewe holds likewise a tenement, 10 acres of arable land and two acres of meadow there with common pasture and renders yearly at the said feast 5s 8d [in another hand:] 6s 8d by the rental.
Commentary:
This extract comes from a survey of Boustead Hill made c.1589 and is more typical of surveys of the 16th and early 17th century than Bankes' detailed topographical survey of 1638. In this earlier survey the acreages are probably estimates and may be notional and the accent is on the services and dues owed to the lord of the manor (here a sum of annual rent: notice the discrepancy which has been noted between the survey and the rental), rather than the acreage and annual economic value of Bankes' survey.
See also: Survey
< Gallery